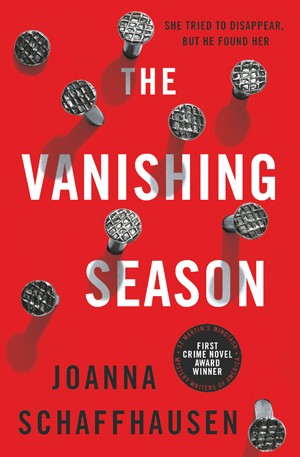 Written by Joanna Schaffhausen — The Vanishing Season won the Mystery Writers of America's First Crime Novel Award in 2016 and the award's sponsor, St Martin's Minotaur, published the hardcover in America towards the end of 2017. It is now arriving in the United Kingdom via Titan Books.
In present day Massachusetts, Ellery Hathaway is part of a small town's police department. She is a recluse and a mystery to her colleagues, even to her boss Sam Parker with whom she is having an oddly impersonal affair. Her only close friend is Brady, a volunteer at an animal sanctuary who looks after her dog, Bump, when she is on duty.
Like most small towns, there is little violent crime, although that is something Hathaway and Parker disagree upon. In each of the last three summers, an adult has gone missing. No corpses have been found, and in each case there is a plausible explanation for their disappearance. Hathaway's insistence that a serial killer is working in the area, and that with summer fast approaching there will be another disappearance, baffles Parker. He is deaf to her pleas to re-open the investigations into the missing people.
Hathaway's secret past is the key to her concerns, but she cannot bring herself to disclose it. Fourteen years ago, Hathaway – then called Abigail – was the so-called 'final girl' who survived after being apducted by the deranged artist Francis Michael Coben. He was in the process of racking up a series of gruesome murders in Chicago. Over three years he abducted and murdered 16 girls, cutting off their hands. Abigail would have been number 17 had she not been saved by young FBI Agent Reed Markham.
In each of the last three years, shortly after a disappearance, Hathaway has received a card on her birthday. There is no writing on them, and she cannot think of anybody who would know her birthday. Hathaway is convinced there is a connection to her past, and that somebody, perhaps a puppet of Coben's or a copycat, is taunting her. Her affair with Parker is all about her trying to convince him of what she believes is happening, and when this fails she puts out a call to Markham in desperation.
Markham became famous by cracking the Coben case, wrote a bestselling book, and for a long time his star was on the rise in the FBI. But he botched his last case – another child kidnapping – and he is on leave because of the fall-out. Seizing a chance at redemption, Markham agrees to get involved.
It's a great premise for a thriller, and for most of the book author Joanna Schaffhausen does it justice. Hathaway is a sympathetic protagonist; damaged but determined, and has real agency. Her working relationship with Markham is complex and credible, and the doubts each has about working with the other give the novel a depth that many mainstream thrillers lack.
For two thirds of the book, the story goes from strength to strength. Schaffhausen keeps the investigation building at full throttle as it gradually becomes clear Hathaway is correct in her fears, and Parker slowly moves from sceptic to believer. It is easy to see why the novel won its award.
It's a shame then, that the final chapters let the book down. A paucity of potential culprits makes it easy to identify the killer before Hathaway does. Markham, his relationship with Hathaway not withstanding, is a let down. Hints early on that his recent failure has left him scarred never really amount to anything, and it is difficult to see what he brings to the investigation, other than being an ally to Hathaway. The final confrontation between the protagonists and the killer seems rushed and a little anticlimactic.
For more missing-in-New-England try Elizabeth Hand's Generation Loss, or to follow up the final girl theme try, you guessed it, Final Girls. Read our interview with author Joanna Schaffhausen here.
Titan Books
Print/Kindle/Audio
£3.79
CFL Rating: 3 Stars