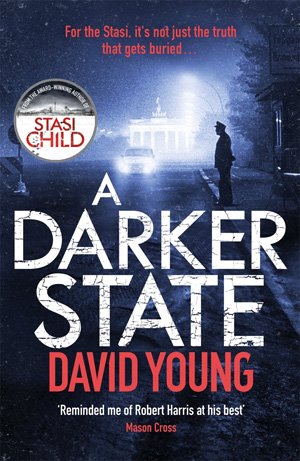 Written by David Young — This is the third in David Young's award-winning series of police procedurals about life in East Germany in the mid-1970s. Following Stasi Child and Stasi Wolf, it's the first without Stasi in the title, and the recent announcement that the Berlin Wall has now been gone for longer than it was in existence makes it a timely release.
Oberleutnant Karin Müller in East Berlin's Kriminalpolizei has been promoted again, inexplicably, while on maternity leave. Now a major, she's being put in charge of a team that will oversee investigations of high-profile murders anywhere in East Germany – murders that might embarrass the German Democratic Republic and investigations that inevitably will put her on a collision course with the Ministry for State Security and its dreaded secret police, the Stasi.
Müller isn't eager to cut short her maternity leave, but her boss reveals that a spacious apartment will be hers if she accepts the new job assignment – a giant step up from the tiny quarters where she's living with her infant twins, their father Emil, and her grandmother. He also offers the not inconsiderable inducement of working again with Werner Tilsner, her second, who also has been promoted. Müller accepts. Thank goodness. We can move on with the crime story and leave behind the awkward references to the series' earlier books.
Their first case begins when Tilsner is called to the site where a young man's body has been found. The cause of his death was a sock stuffed down his throat, and he has restraint marks and an abnormally high amount of testosterone in his blood. He's only the first.
Meanwhile, Jonas Schmidt, the pedantic Kriminaltechniker who aids Müller and Tilsner with the forensic side of their investigations, is in an increasingly sour mood. Trouble at home it seems. His teenage son Markus has taken up with some gay friends, and Schmidt doesn't like it. Furthermore, it appears that Markus is being set up for something. East Germany legalised homosexuality in 1968, but changing the law has not changed attitudes.
Young tells part of the story from Markus's point of view, starting a few months before Müller and Tilsner begin investigating the young man's death. It's a clever way to introduce some backstory, but in this book the switching back and forth between time periods becomes slightly confusing. Is Markus going to come into the crosshairs of a homophobic killer or is something else going on?
The roadblocks Müller and Tilsner encounter in their investigation, as well as the increasing trouble young Markus is in, have the machinations of the Stasi written all over them. She knows she's gone too far in pursuit of the truth when she is arrested and taken to the Stasi prison at Bautzen. Some pretty strong pressure will be needed to get her out of there. Although she has an uneasy relationship with the Stasi officer Colonel Klaus Jäger, his support is far from guaranteed. By the book's finish Jäger has once again proved himself an ambiguous ally.
There's a glossary of German terms of the era at the back of the book. However, Young's writing is so clear that the meaning of these words is evident without it. What would be helpful is a map showing the story's locations. Frequently, Müller has to go to a crime scene or investigatory location and is torn between leaving the twins with her grandmother once again and doing her job. There is no sense of whether these places are a few miles or a few hundred miles distant.
I've previously reviewed the audio version of Young's previous book Stasi Child, and it's a testament to Young's consistent portrayal of his characters and Julia Barrie's narration that when reading A Darker State in print I still heard her voice.
Martin Cruz Smith is the master of crime fiction set in a totalitarian state, and you should also try Philip Kerr's Bernie Gunther books, Dan Smith's The Child Thief or Sam Eastland's  The Beast in the Forest. For GDR drama, watch Deutschland 83 on Walter Presents.
Zaffre
Print/Kindle/iTunes
£3.99
CFL Rating: 4 Stars