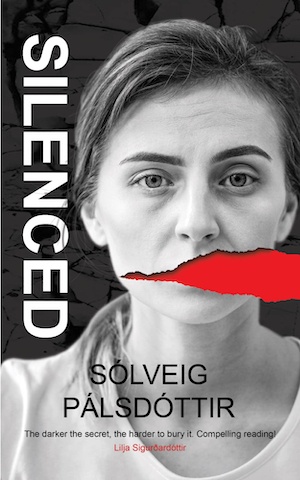 Translated by Quentin Bates — Corylus Books was set up a year or two ago with the aim of publishing crime novels that might not normally make it into English translation, and Silenced by Solveig Palsdottir is the company's third release, following Solveig's earlier novel The Fox, and Sword by Bogdan Teodorescu. It's a worthwhile mission, and Silenced is certainly a worthwhile read, particularly if you enjoy discovering new angles on Nordic noir. There's no serial killer here, no dark forest or isolated, ice-bound cottage concealing ritual murder, but even with Solveig's gentler approach you'll find it dark, troubling, unsettling.
Police detective Gudgeir Fransson returns after his travails in The Fox, and is moving home with his family and downsizing as his daughter will be going to law school. He and members of his team are called to a Reykjavik prison where a woman inmate has committed suicide. Or so it seems. Kristin Kjarr, an artist convicted for driving her car and smashing it into a house, nearly killing a child, was thought to be doing well with her rehabilitation. Strangely, they find dozens of drawings in her cell – all of the same man.
Arriving home one night, Gudgeir bumps into his new neighbour, Andrea Eythorsdottir. She seems a little drunk and disorientated, and complains to him that the police failed to find her older brother, Johannes, who went missing almost two decades ago. He later finds out that Andrea is a social media celebrity and influencer, who comes from a very wealthy construction family. Her brother's disappearance was a big deal at the time, and because Gudgeir is such an empathetic fellow, he decides to look into it a little bit more.
As he studies photos from the case and more recent ones of Andrea's family, it strikes him – the man Kristin drew so many times in her jail cell is actually Andrea's other brother, Dadi. And, there's a further link between the suicidal artist and this wealthy family. It was their house that Kristin drove her car into. Why did she do that and what, if anything, do Johannes' disappearance and Dadi have to do with it?
While Gudgeir and his colleague Elsa Gudrun investigate Kristin's suicide, the other detectives in his department are called out following a rape. Then another occurs. As the serial rapist's activity escalates, this brutal storyline moves closer and closer to Gudgeir's investigation.
Silenced is one of those novels where the skin of the onion is peeled away, layer by layer, and the stinging flesh within the story is revealed. All the characters Solveig creates are very relatable. Gudgeir is, simply put, a good guy. He's very sympathetic, measured, cares about people and always tries to do the right thing. There's no malice in him, which means that sometimes other characters underestimate him. Similarly, Elsa Gudrun is a soft character, who is kind and practical and Gudgeir feels protective of her. It seems a genuine friendship.
These gentle police detectives are juxtaposed with some ruthless opponents who are part of the Icelandic establishment – they have money and influence. And they have things to hide. Reading Silenced is bit like being a frog in a pot of water that is slowly heating up. You'll feel comfortable, lulled by the easy and fluent way Gudgeir and his colleagues negotiate the case, not realising the danger, not registering the series of horrible events and how they have built up over time until the story reaches boiling point. It's interesting to note that Solveig doesn't use multiple murders, which are unheard of in Iceland, yet still manages to tell a very powerful and moving story about slightly lesser crimes. Time and inaction can be as hurtful as violence.
A little bit like Ragnar Jonasson's Winterkill, in places Silenced looks at the theme of responsibility. There are people who could have helped Kristin, but didn't, allowing terrible things to happen to her. There are people who could have been honest and responsible, but instead chose to conceal the truth, leading to further harm. And while you might figure out what really happened quite early in the novel, exactly how they've done it is harder to guess, which keeps the mystery going to the end.
The ending, however, is a little disappointing and incomplete. Most likely, it is unsatisfactory on purpose, but you can't help but feel that the police could do more to really get to the bottom of things. Maybe that will happen in a sequel, but it doesn't read that way and feels like resolution should be a part of this story. Or maybe the way it pans out is just how things are in Iceland… and elsewhere?
Corylus Books
Print/Kindle
£3.79
CFL Rating: 4 Stars