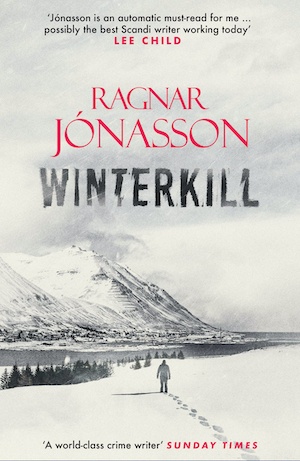 Translated by David Warriner — Arguably the finest novel in the Dark Iceland series, Winterkill sees Icelandic author Ragnar Jonasson writing as smoothly, confidently and incisively as ever. From page one, you'll glide into the mystery of a young woman's death and the detailed investigation that follows, carried out by the young police inspector Ari Thor Arason. You don't need to read the previous novels in the series, just dive straight in – it's a story that's easy to enjoy.
Ari Thor is now the boss in the Silufjordur police department, which has a total of two employees. His number two is a young recruit called Ögmundur who is new in this isolated town, and who is just like Ari Thor was back in Snowblind, the first book in the series. Well, almost. Ögmundur is never quite as engaged with police work as our hero, and remains on the fringes in this story.
As you'd expect, the case begins with a body – that of Unnur, a 19-year-old woman who seems to have thrown herself from a second storey balcony. Her corpse lies dead in the snow outside a building inhabited by an elderly couple, who are renting a floor from its owner, a historian called Bjarki who is away in Reykjavik. Ari Thor arrives and starts asking questions.
What's puzzling about her death is that nobody knows why Unnur would have done this. According to her distraught mother she was doing well in her studies, didn't drink or take drugs and had never really been interested in men. She was quiet and sensible, never got into trouble and kept herself to herself. Then again, everybody has secrets…
Everything points to suicide, but that doesn't sit well with Ari Thor and he's reluctant to let the case go. Then something bizarre happens. In a nearby retirement home, an elderly man who is developing dementia scrawls 'SHE WAS MURDERED' on his bedroom wall. Talking to the staff at the home Ari Thor is none the wiser – does the old man know something about Unnur's death, or was his graffiti a result of his condition? It always feels like there's more to uncover in neat little Nordic towns like Siglufjordur.
Ari Thor's frustrating relationship with his ex-partner Kristín has always been a feature of the series. She now lives in Sweden with their young son Stefnir but they are back in Siglufjordur for Easter so that Ari Thor can spend time with his boy. Trouble is, just like when they lived together, Ari Thor's work gets in the way. His internal conflict continues – should he try to revive things with Kristín or start again with somebody else? And, in fact, someone is interested…
But first, the mystery of Unnur's death. It keeps nagging at Ari Thor and he talks to a whole host of characters to get to the bottom of it. Often in a crime novel it's a manhunt, the spectre of another murder or a race to find a missing person that drives the story. What's so magical and unique about Winterkill is that it doesn't rely on any device or setup. The impetus comes from the dozens of little conversations Ari Thor has with people all over the town. The tiny nuances he notices about each character and how he reads them matter as much as the facts that are revealed.
Ragnar Jonasson turns the whole idea of a crime novel on its head. Unnur's death may not even be a crime, but it is having an effect on everyone and what really matters is how Ari Thor and the other characters feel about it. The author puts you there in the room with them as they discuss what's happened, subtly peeling away the moral issues surrounding the woman's premature death. Likewise, as an Easter snowstorm swirls around Siglufjordur, you'll feel like you're in the town, which has become part of Iceland's tourist trail. That's partly down to a new road in, but also because it's the setting for both Ragnar's novels and the Icelandic TV series Trapped.
This is rumoured to be the last novel in the Dark Iceland series and is available as a hardback. If you like slow burn mysteries that are perceptive and filled with layers of meaning and emotion, you should definitely get yourself a copy.
Read our reviews of the past novels Snowblind, Nightblind, Blackout, Rupture and Whiteout.
Orenda Books
Print/Kindle
£3.79
CFL Rating: 5 Stars