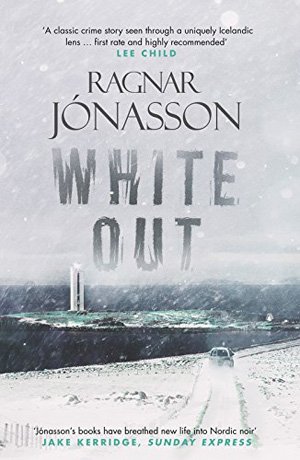 Written by Ragnar Jonasson, translated by Quentin Bates — The love for Iceland and murderous thoughts being harboured in its snow-covered landscapes shows no sign of abating. Although it has one of the lowest real-life crime rates in Western Europe – an average of only 1.8 murders occur on the island each year – Icelandic crime fiction makes the country look like a hotbed of violent intrigue. For evidence, explore the work of Yrsa Sigurdardottir and Arnaldur Indridason, two of the country's biggest crime fiction exports who are loved by Nordic noir fans around the world.
Ragnar Jonasson has been one of the most successful new writers of Icelandic crime novels in recent years and we have interviewed the author and reviewed a number of his novels on this site, the most recent being Rupture. Whiteout is the fourth book chronologically in his Dark Iceland series although, confusingly, it is the fifth one to be translated. Police detective Ari Thor Arason and his girlfriend Kristin are finally getting used to life in the remote northern town of Siglufjörður and are settling in for a quiet Christmas awaiting the birth of their first child and partaking in the wonderful Icelandic tradition of giving and receiving books as Christmas presents. Needless to say, things don't go according to plan, and the policeman is soon called in to help his former boss Tomas investigate a rather suspicious death in another northern town nearby.
A young woman called Asta has been found dead at the foot of the cliffs in Kalfshamarsvik, a deserted village now consisting solely of a lighthouse and the house of wealthy businessman Reynir Akason. Asta may have been visiting the house for Christmas, although it must have contained painful memories for her because her mother and sister both lost their lives on those very same cliffs years ago, and her father never recovered from the shock. Can it really be a strange coincidence that Asta should die in exactly the same way? Tomas doesn't believe in coincidences – or perhaps he is eager to impress his bosses in Reykjavik – so Ari Thor and Kristin decide to spend Christmas near Kalfshamarsvik so that they can be together even though Ari Thor is working.
Once more we have that trademark blend of Nordic noir atmosphere with a good old-fashioned Golden Age scenario. The location is isolated, limiting the list of possible murderers in a closed community. It's a set-up for which Ragnar Jonasson is becoming known. This allows for extensive questioning and psychological profiling, and a pace that focuses more on the puzzle and motivations rather than on hardcore action. However, the list of suspects is quite small even by the standards set in previous novels. The inhabitants of the house are Reynir, his elderly housekeeper Thora and her brother Oskar, who tends to the lighthouse. There is a young farming couple living close by, Arnor and Thorhalla. Each one seems to have something to hide, and they are all puzzled and discomfitted by Asta's sudden decision to come and visit after so many years, not to mention her demise.
With the twin pressures of Christmastime family obligations and impeding heavy snowfall, Tomas is perhaps too hasty in trying to close the case. Ari Thor, however, proves once more his dogged determination to get the right result rather than a quick one, even though this has repercussions on his own family life.
The first few chapters are presented from Asta's point of view, but after that it is Ari Thor all the way. There is no tricky double timeline here, no alternating points of view to heighten the tension artificially. There is no need for such gimmickry. This is an author who has gained in confidence and descriptive powers, who can allow his story to unfold gradually. The final piece of the puzzle does slot into place somewhat fortuitously and so the ending feels rushed, but it is still an enjoyable and evocative piece of storytelling.
For a little visual inspiration from Iceland, have a look at this article about a murderous mystery tour around the Reykjanes Peninsula last November.
Orenda Books
Print/Kindle
£4.31
CFL Rating: 4 Stars