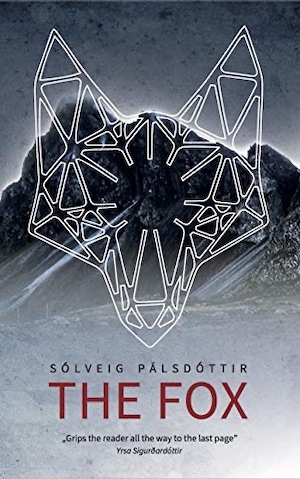 Translated by Quentin Bates — The Fox has the perfect mix of the elements readers have grown to love, expect and even demand from Nordic noir novels. In this crime-in-translation debut by Sólveig Pálsdóttir the landscape and characters are grey, gloomy and unpredictable. The plot is dark and twisted. And the subject matter current and relevant as an immigrant to Iceland moves out the countryside and eventually disappears.
Sajee Gunawardena finds herself stranded in Iceland, a country where she finds the silence unsettling and the scarcity of people terrifying. A long way from her home in Columbo, Sri Lanka, she is desperate to work in a trade she is experienced in and sets off for a beauty salon in Höfn, a fishing town in the south-east. During a turbulent flight the charming Thormóður, owner of a local guesthouse, calms her nerves and promises to lend a hand if she ever needs it.
When she arrives in a snow-covered Höfn it's clear that the job that Sajee's flatmate organised for her doesn't exist and was only a vindictive attempt to get rid of her. Sveinn, one of the airport staff, takes pity on Sajee, gives her a lift into town and tries to find the so-called beauty salon. After many futile attempts, Sajee asks Sveinn to drop her off at Thormóður's guest house. As before, Thormóður is eager to help and in no time arranges for her to work for an elderly woman and her son on a remote farm an hour's drive from Höfn.
Arriving at Bröttuskriður Sajee notices the hostile landscape and looming, steep mountains behind the farmhouse. "The mountain resembled a vast fist with sharp nails at the ends of long claws, and she had the feeling that the fist could clench and crush her," writes the author.
The grey and dreariness permeate everything – the landscape, as well as her new employer's bleak clothing and appearance. From this moment Pálsdóttir creates an almost unbearable feeling of increasing claustrophobia. Her unease is paralleled in the distressed behaviour of a chained fox running back and forth as far as its restraint allows. Is this an indication of the family's treatment of others, whether animal or human.
Not only does Iceland's weather appear threatening, her new employers and their neighbours treat Sajee with disdain based on their racial prejudices of eastern women. She barely sets foot in the farmhouse when she is bombarded by the opinions of the visiting next door neighbours, Karl and Martha. Karl tries to frighten Sajee with folklore of the hidden people living in the mountains. The couple and Selma, her elderly employer, speak about Sajee as if she's a dim-witted child who doesn't understand them. The fact that she struggles to articulate herself due to the language barrier and a cleft palate, is apparently enough of an excuse for them to refer to her as disabled and feeble-minded. "Asians are there for everyone… They just laugh and take it, these girls", says Karl while Martha announces that although she's not prejudiced, she's just "all for keeping the stock pure."
Then there is Guðgeir Fransson, a tenant of Sveinn, the man who helped Sajee at the airport. During his time as police chief inspector in Reykjavik, Guðgeir's colleague and friend was killed and he was partly to blame. Forced to leave the police, he took up the job as a security guard in Höfn. The event destroyed his reputation and career and left his relationship with his wife, Inga, in tatters. The homesick and lonely Guðgeir incessantly attempts to repair and maintain their relationship, but his efforts to reconcile are met with varying degrees of success and serve as a reminder of the fragility and complexity of close relationships.
As time passes and no-one seems to know or care what happened to Sajee, Guðgeir starts trying to find out what happened to her. Since being dropped off at the guest house there has been no trace of her and Thormóður first denies knowing her and then claims she flew back to Reykjavik. When Guðgeir finds out that there's no record of her leaving the country, his bloodhound, investigative instinct kicks in and he calls on Saerós, his ex-colleague in Reykjavik, for assistance.
Pálsdóttir draws authentic and unique characters. Guðgeir might be an ex-policeman with marital problems, but he doesn't come close to the moody, depressed Scandinavian detective stereotype. Selma's moods are as volatile and as unpredictable as the weather and her son, Ísak, although in his 30s, is guilt-tripped into staying on the isolated farm with his mother.
The Fox sits on the psychological thriller end of the broad crime fiction spectrum. There's only a smidgen of action, but the relentless, permeating tension and underlying fear hold you tight from beginning to end. The references to Icelandic folklore add a supernatural touch of suspense to the already ominous story. With its strong sense of space and attention to descriptive detail The Fox is up there with the cream of Icelandic crime fiction. In addition to its atmospheric setting and twisted plot, it questions racial stereotypes and addresses relevant social issues such as human trafficking and how mental health issues arise due to trauma and isolation in a harsh environments.
The Fox is the first novel by Pálsdóttir translated into English, but the fourth in the Guðgeir series. Experienced translator Quentin Bates does a splendid job of making the text easy to read, losing neither the book's intricate detail nor its foreboding atmosphere. Although The Fox can stand on its own, readers might feel they are missing out by not having read the previous books in the series. References to the events which led to Guðgeir's suspension from the police and leaving his family will leave readers craving more. Hopefully publisher Corylus has plans to translate the rest of the series in due course. The Fox is a novel that will firmly lodge its teeth into all crime fiction readers, not only devoted lovers of Scandinavian crime fiction.
See also our coverage of Arnaldur Indridason, Yrsa Sigurdardottir and Ragnar Jonasson for more Icelandic crime fiction.
Corylus Books
Kindle
£3.79
CFL Rating: 5 Stars