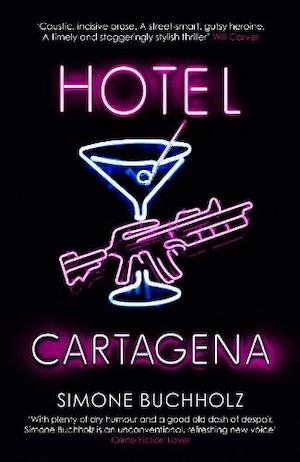 Translated by Rachel Ward — German crime fiction is a hit with our readers at the moment. We know this because thousands of readers have been checking in over the last month to read about the television series The Nordic Murders, plus our feature on some of the best German crime authors. Among them is the award-winning Hamburg-based author Simone Buchholz, whose new novel Hotel Cartagena is an edge-of-your-seat carnival ride (more on that later) threatening to careen out of control.
Hotel Cartagena features Buchholz's spirited series character, public prosecutor Chastity Riley is straight-talking, hard and worldly. Both her name and manner seem more inspired by American crime fiction by the likes of Sara Paretsky or even Raymond Chandler. But this is Hamburg, a city with an anything-goes tradition, right? Because her chapters are told in first-person, you're well aware of her wry sense of humour and how much she dreads the after-hours 65th birthday celebration of one of the detectives taking place in the 20th floor hotel bar with a grand view of the harbour. Her discomfort isn't because she doesn't favour a drink after work, but because the ten celebrants include two of her ex-lovers. Her feelings about them (and theirs about her) are, well, complicated. But, as she says, 'Everyone here has a past with everyone.'
Her current sometimes lover Ivo Stepanovic, another cop, is in the neighborhood of the hotel, but he knows the exes are there, and he's dawdling. Before he makes it to the penthouse, the bar is invaded by a dozen disguised and well-armed men, the elevators shut down, and the police alerted.
Before you find out what this is all about, the book skips back a couple of decades to tell the story of Henning, a young man from Hamburg's sketchy St Pauli area, with no prospects to speak of. He hops on a ship and relocates to Cartagena in Colombia, where he sets about making a life for himself. At some point a Colombian drug trafficker reaches out to Henning, in the hope he can find a couple of chancers in Hamburg who can expand his cocaine market.
The money he offers is simply too tempting, and Henning does identify a trio of former pimps, 'picture-perfect small-time and impressionable crooks, easy to mould into shape for the long term, and to subjugate.' For their participation, he receives a kickback, a lucrative arrangement that continues for years.
All goes well until Hamburg police raid the wealthy home of Konrad Hoogsmart who has been partying fairly non-stop with the city's reckless youth. Hoogsmart immediately turns over Henning's Hamburg contacts, and one of them grasses on Henning. After that, the US Drug Enforcement Agency becomes involved, and Henning has to leave everything and flee to Curaçao, a place where few questions are asked. Eventually, he runs a dive business for tourists there, safe from the authorities, but not from the past.
Henning's story is told in alternating short chapters with those of Riley, sequestered with the other bar patrons. The hostage-takers haven't revealed their game, but they seem reasonable. They even declare an open bar, which all the hostages take advantage of. Riley cut her thumb rather badly on a piece of pineapple, and while she drinks the first of a goodly number of gins and tonic, she immerses her thumb in vodka. Painful.
Finally, the assailants decide to move things along and interrogate one of the bar patrons. Riley says, 'the relief in his face has nothing to do with an absence of fear, it's more as though the hours of waiting before root canal treatment are over. Which, of course, doesn't make the procedure as a whole even a fraction better, because this here's a place where they work without anesthetic.'
Over the course of the next few hours, her injury steadily worsens, turning a suspicious colour. She spikes a fever, and a hallucinatory haze comes over everything she observes. This is where the feeling of carnival ride takes over. Even Riley recognises herself as an unreliable narrator at this point, and I really enjoyed the teetering on the edge of disaster feeling as the disconnected images swiftly pile up, a device Buchholtz handles quite deftly.
Down at street level, a massive police response has assembled – SWAT teams, ambulances. Stepanovic's total focus is Riley upstairs, and he's attached himself to the hostage negotiators, knowing they'll be at the centre of decision-making.
Riley, especially, but Stepanovic and Henning too, are interesting characters with lots to command your attention. While in some ways the situation doesn't seem too dangerous for the hostages in general, with so many hostage-takers armed to the teeth, the police downstairs itching to do something, and possible plotting among police attending the birthday party (something the assailants still don't realise), lots can go wrong. The whole situation is as wobbly as the swirling carnival ride – the 'chairoplane' – Riley believes she's riding.
Also see our reviews of Blue Night, Beton Rouge and Mexico Street by Simone Buchholz, and for more German crime fiction click here.
Orenda Books
Print/Kindle
£4.99
CFL Rating: 5 Stars