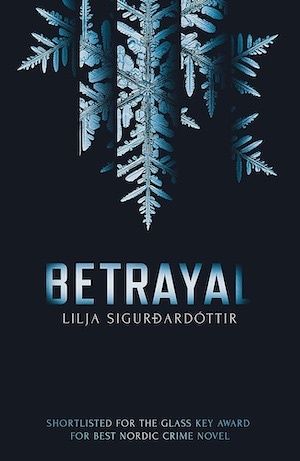 Translated by Quentin Bates — With her new standalone novel, Betrayal, Icelandic crime author Lilja Sigurdardottir returns to themes such as misogyny and abuse. What's new is that the backdrop is not the world of drug trafficking as it was in books like Snare and Trap. This time the action takes place in the shadows cast by the country's parliament and political landscape.
Betrayal introduces us to Ursula, who has barely recovered from her challenging and high-risk post as an international aid worker in Syria and Libya. When she takes up the prestigious position of Minister of the Interior on a temporary basis, Ursula learns that her predecessor retired for health reasons and starts to questions why she was selected to replace him. The ulterior motive for Ursula's appointment soon becomes apparent.
One of the first things Ursula does is promise a woman called Rosa, whose daughter was apparently raped by a police officer, that she will look into her case. What Ursula doesn't realise at first is that the case was swept under the rug by the authorities investigating it. Their reasons were nefarious and by shedding light on the case Ursula will threaten the stability of some of her colleagues…
Tasks like approving a controversial highway project bring tension with them, but on top of her difficult work Ursula finds that she is being stalked. A disturbed homeless man seems to know who she is, and in addition to this she is receiving emails threating physical violence, including rape.
Soon she has to employ Gunnar, a driver and bodyguard. Of all the secondary characters Gunnar's is the most fleshed out and also the most likable. His genuine concern for Ursula's safety almost crosses the border of professionalism, but this never develops, despite his girlfriend's accusations. Although Ursula's husband, Nonni, is there to help her deal with family life and the stresses she faces, he seems to fade into the background.
There are lots of threads running through Betrayal, and at times it's hard to tell where the emphasis is and where it's going. Another connecting narrative is that of Stella, a cleaner at the parliament whom Ursula befriends during a smoke break. Initially Stella's role in the story is vague – especially her connection to Greta, the chubby newsreader she schools in the dating protocols of Tinder. In contrast to Gunnar, Stella is abrasive and opportunistic, inconsiderate of other people's feelings and oblivious to the repercussions of the actions she takes.
However, both Stella and Gunnar were abused by their fathers when they were young, and coincidentally they even know each other. Bad fathers grow as a theme in the novel, and we learn that Ursula's own father, Ari, was an alcoholic who made himself homeless. He ended up being murdered in a police cell. This is something she struggles to come to terms with and is what drives her need to make a difference now that she has the opportunity to do so. The mystery of Ari's death becomes a focus for Ursula and she is compelled to find out what really happened.
Then there's Jonatan, the police officer accused of raping Katrin Eva, Rosa's daughter. Jonatan is a father too, and the accounts his wife Marita and eldest son Kiddi give about the night of the rape cast doubt on his innocence. His character, much like Nonni, is mostly physically and emotionally absent.
As more characters come into contact with Ursula, and their stories grow in extent and complexity, it gets harder to tell where we're headed. It even transpires that Ingimar Magnusson, Iceland's only terrorist bomber, is involved in financing of the South Coast Highway project. Are all these threads here to throw us off the trail of the guilty parties or do they have greater relevance in what is an increasingly complex story?
Betrayal moves at a slow pace with occasional adrenaline-inducing events dotted in-between to jolt us to attention. Perhaps the story could have benefited from a bit more direction and impetus, throughout. Ursula's endeavour to solve her father's murder becomes an important element of the story, but she only starts questioning it at a late stage.
Betrayal does have a cast of strong, well-developed women characters to drive the storyline. It also highlights the discrepancy that still exists in the corporate environment when it comes to the expectations placed on women compared to men. However, where the notion of betrayal is concerned, both sexes are shown to be at fault – both in personal relationships and politics. In the end the main focus of Betrayal isn't so much on the crimes committed, but rather the dynamics between the various characters' relationships.
Here are six Icelandic crime authors you should try, including Lilja Sigurdardottir.
Orenda Books
Print/Kindle
£3.79
CFL Rating: 3 Stars