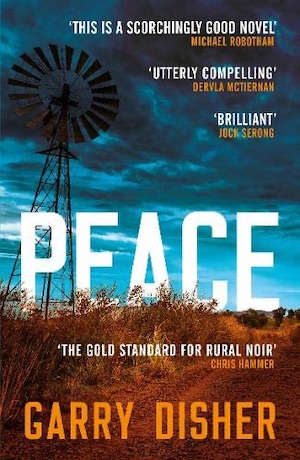 It's fair to say that things have been feeling a tad fraught lately, but if you're looking to escape from the day-to-day and immerse yourself in the dramas of life on another continent, then multiple-award-winning Aussie author Garry Disher is definitely your man. Unless you're in Australia, of course. Then it's the same continent, but read on nonetheless.
In this year of utter madness, it came as a surprise to realise that Bitter Wash Road, introducing Constable Paul 'Hirsch' Hirschhausen, was only published in the UK and US this April. Seems like so much longer after all we've been through, but it's a pleasure to make Hirsch's acquaintance once more.
As Peace begins, it's the Christmas season and there are few surprises as Hirsch keeps law and order from his scruffy one-cop cop shop in a fairly quiet corner of South Australia's dry farming country. There's been a grass fire, several reports of tools and copper wire going missing and two teenage boys have pinched a car, so all very routine really – until Brenda Flann decides to make her entrance in the town pub without actually leaving her vehicle. Drive thru, anyone?
So there's a bit of drama to break up the monotony for Hirsch, who is still settling into his new role as a lone rural cop after he left the city under a cloud in the aftermath of 'dobbing in' some of his former colleagues. But what happens next is shocking, and animal lovers may find the descriptions a little upsetting as several miniature ponies are mutilated, some of them killed. The descriptions here are graphic and stomach churning and leave little to the imagination – thankfully, they're over quickly, but they clung to the back of my mind as I read on.
First port of call is the lads who pinched the car, which belonged to the owner of the horses. However, there are darker undercurrents at work in this generally peaceful rural area and Hirsch's instincts tell him they're not to blame. Then he has to leave his thoughts on the back burner, because there is a double murder, resulting in the disappearance of two young girls, and things are starting to get really dicey.
The great thing about these books is their sheer believability and attention to detail. Granted, it could seem a little far-fetched that so many terrible things happen in an apparently sleepy part of rural Australia, but Disher's skill is that he makes it all so true to life. From the nosy neighbours to the local guys who lay tarmac off the books, everyone who inhabits the pages of Peace is precisely rendered and leaps off the page.
Hirsch himself is a fine creation. He's still trying to find his feet as a rural cop and is learning to tread a fine line between lawman and friendly ear, and with the help of his girlfriend, a local teacher, and her young daughter, he is creating a new life for himself. But there are some colleagues back at headquarters who see him as a traitor and he meets hostility in the oddest of places.
As with Bitter Wash Road, the locations serve as an extra character and you can almost taste the dust that flies up from Hirsch's tyres as he drives the local highways and byways. There is both sadness and hope here, and setting Peace is the season of goodwill gives the narrative an added frisson of poignancy too. Peace means to many things to so many people – a glass of wine after the kids are finally in bed, a leisurely walk up a deserted hillside, or maybe, like Hirsch, a life untroubled by strife, fear and worry.
Whatever your version of peace, I'd recommend adding a little crime reading into the mix – and this immersive and addictive book is the perfect accompaniment to that peaceful interlude.
Find some more juicy Aussie crime writing in our roundup of writers to check out. Meet Detective Matthew Venn, another police officer struggling to find his feet, in Ann Cleeves' The Long Call.
Viper
Print/Kindle/iBook
£3.32
CFL Rating: 4 Stars