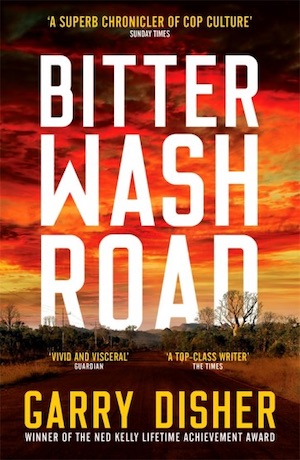 Australia can lay claim to some pretty good exports – think Kylie Minogue, Vegemite, didgeridoos and Hugh Jackman for starters – but of late my favourite has been the wealth of crime writing talent that has made the trip from its shores to our book shelves and e-readers.
Aussie-set bestsellers include Scrublands by Chris Hammer, 55 by James Delargy, Jane Harper's The Dry and Helen FitzGerald's The Cry so it's a high bar in terms of sheer readability. Garry Disher's Bitter Wash Road is a worthy addition to that list. It's already been huge in its home country and there's no reason why it shouldn't garner the same response elsewhere.
Garry Disher is the prolific author of more than 40 books across many genres, with his Peninsular mysteries series picking up awards across the globe. He's also the holder of a Ned Kelly Lifetime Achievement Award. It's my bad that this is the first of his books I've read, but I'm certain it won't be the last.
Constable Paul 'Hirsch' Hirschhausen is the lone police officer on a sleepy country assignment, running a one-cop cop shop in the drab and dusty wheatbelt of South Australia. He's new to the job, but this is no wet-behind-the-ears fresh recruit. Until recently, Hirsch was a promising detective in Adelaide… until, that is, he blew the whistle on the less than law-abiding antics of some of his fellow police officers.
So now he's persona non grata, treated with suspicion and disgust by his new colleagues, who've labelled him a dog and a maggot and don't trust Hirsch at all. The feeling is mutual, and in the interests of self-preservation, Hirsch is continually on his guard. So when he gets sent out to the desolate Bitter Wash Road to investigate reports of gunfire, he's fully expecting an ambush. The only question is whether it will come from two killers who are currently on the lam, or from the officers providing his so-called 'back up'.
As it happens, neither of these is the case, and what Hirsch discovers sets him off on a trail that leads him to some pretty dodgy places, and even dodgier situations. As he tries to settle into his alien new life in the little town of Tiverton, Hirsch is about to have his mettle tested as the body of a local teenage girl is found at the side of the road. Melia Donovan was just 15, and prone to hitchhiking to get to parties. Now she's dead and it looks like a simple case of hit and run. Hirsch isn't too sure, although no one else seems keen to agree with his point of view. As we are beginning to discover though, he isn't the kind of guy who will let a thing drop just because he's told to…
Hirsch is a loner but it's more by chance than desire, and that sense of aloneness permeates every page of this classy police procedural come mystery, along with the heat, dust, insularity and sheer bloody-mindedness of a worn-out town in the wilds of Australia. Sit back and revel in the near-documentary level clarity of the settings featured here, and enjoy the company of the disparate and hugely entertaining set of characters that inhabit it.
Disher's writing style is so assured that scenes skip off the page and straight into the imagination, with telling little flourishes of words and sentences that make you sit back and marvel before reading them again for the sheer pleasure of it. Right there in the spotlight is Hirsch himself. His story may seem a familiar one, but scratch beneath the surface and you'll uncover the many layers of this complicated man. He's back in October in a novel called Peace – and I for one can't wait to meet him again!
Also try one of our top Australian crime shows, or Tom Bouman's The Bramble and the Rose which features loner cop Henry Farrell.
Viper
Print/Kindle/iBook
£2.75
CFL Rating: 5 Stars