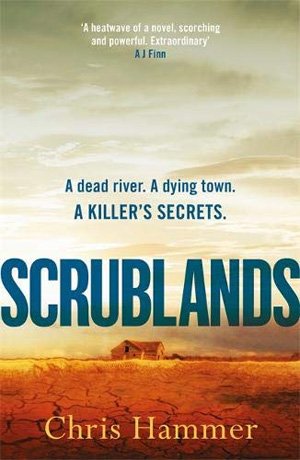 In recent years, Australia has been the setting for some of crime fiction's best-received novels. Think of The Dry by Jane Harper, Helen FitzGerald's The Cry and Resurrection Bay by Emma Viskic and you'll get my drift. Time to add Scrublands to the list. Out since July for Kindle, this debut crime novel has now arrived in the US and UK as a hardback.
We're in Riversend, in the rural heart of Western New South Wales. It's a quiet little town, nothing special to look at. Somewhere to drive right on through without a second glance. Until one fateful day when the local priest opens fire outside his church, killing five men before being killed himself.
It's almost a year since that happened, and journalist Martin Scarsden arrives in Riversend in the heat of the summer and during a severe drought to write a feature on the anniversary of the tragedy. Sounds like standard fare for the seasoned reporter, but the more he hears from the locals, the less likely the official version of events sounds.
As Martin begins to dig deeper, he is in danger of uncovering secrets perhaps best left undisturbed. Then, just as he is gaining the trust of the people he meets, the bodies of two missing German backpackers are discovered in the scrublands surrounding the town. As the media pack descends in force, Martin unwittingly finds himself in the spotlight and making headlines.
Here's the author saying a little bit about his book…
Scrubland will grab you from the off. It opens with the dramatic scenes at the church 12 month ago. What that scant prologue says – and, more importantly, what it doesn't say – sets the tone for a book that keeps on giving.
Small towns are a mainstay of the crime fiction genre, and in Riversend we have a prime example. It's run down, insular, claustrophobic and full of secrets – and the oppressive heat serves as a cloying backdrop to everything that occurs, so much so that the humidity seems to rise from the pages!
Martin Scarsden is central to all of Chris Hammer's plot machinations but he is surrounded by a cast of boldly rendered characters, some eccentric, others downright scary but all with an authenticity that lifts them from the imagination and into the real world. They have great names too – meet bookseller and stellar coffee maker Mandalay Blonde, Codger Harris, Harley Snouch and Robbie Haus-Jones, the constable who shot and killed the young priest Bryon Swift, a man he thought of as a friend. All of them have a vital part to play as this tale unfolds.
The sense of place is palpable as Martin, sensing the story of a lifetime, settles into life in Riversend. There's a touch of Groundhog Day as he takes a daily meander along the main street, passing the lonely war memorial and longing for coffee – and more – from Mandy Blonde. On the surface, Riversend is a peaceful backwater, but the more he uncovers, the more deadly the place becomes. The waterway that gives the place its name may be dry as a bone but Riversend is awash with undercurrents.
Scrubland is a fine piece of work, a book that offers a clear window on the world contained within its pages. I may have been reading it in the depths of a British winter, but its depiction of drought-hit Australia is so realistic that you may well be tempted to open a window or two (tip: don't). Its depiction of the news-hungry press horde is spot on – as to be expected from an author who was previously a journalist himself.
If I had to quibble, I'd say the sheer volume of badness hidden in one small town seems a little far-fetched, but Scrublands wins on so many other levels. Grab a copy right away.
Take a look at our guide to the best of Australian noir, and if that whets your appetite, check out five great Aussie crime shows too.
Wildfire
Print/Kindle/iBook
£8.49
CFL Rating: 5 Stars