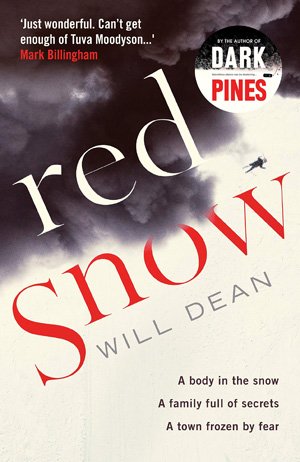 Written by Will Dean — Shortlisted for Not the Booker and recommended by the Zoe Ball Book Club, and not to mention a five-star review here on Crime Fiction Lover, Will Dean's debut, Dark Pines, had everyone talking when it came out this time last year. Now he's taking us back to Gavrik, an isolated town in the middle of Sweden, where local journalist Tuva Moodyson – who is deaf and bisexual – is once again getting herself into scrapes.
The Medusa murders that Tuva helped solve in the first book continue to haunt her, but not quite as much as the passing of her mother. She regrets not spending enough time with her, and not saying goodbye properly. Death is in the air again, though, when Gustav Grimberg, owner of Gavrik's famous liquorice factory, jumps from one of its towering chimneys. His head splits like a melon and he dies instantly. Tuva and dozens of others actually witness the plunge, and straight away she has something to write up for the local paper.
It's mid-February, and all her movements are dominated by putting on and taking off winter outerwear, dealing with dry skin, scraping windscreens and taking precautions on the roads. Other than that, the bleakness of the Swedish winter with limited daylight hours ensure the setting Will Dean creates is suitably shadowy, frigid and Nordic.
Soon a new opportunity comes Tuva's way. David Holmqvist, the hairy scary ghostwriter with a wolf-sized German Shepherd she encountered in Dark Pines, needs her help. He's writing a book on the history of the Grimberg factory and its famous product: salt liquorice. With Gustav dead, Holmqvist must research his book via the three heirs to the Grimberg fortune – Gustav's wife Anna-Britta, his mother Cici and daughter Karin. Tuva will interview them on a freelance basis in addition to working for the paper, mainly because they can't stand Holmqvist. And he is pretty weird.
During Tuva's exploration of the Grimberg factory, tragedy strikes once again. A man called Gunnarson, universally regarded as a bit of a pest, is found dead. And here's the creepy bit. He's been bashed on the head. He has a cut to his jugular. A dog's tooth has been stuffed into the wound. There are liquorice coins over his eyes, and a ball of liquorice has been stuffed into his mouth. While there were hints that Gustav Grimberg might have been bullied into jumping, this is definitely murder, and Tuva's research assignment gives her an inside track on what's happening in the factory.
Here's where things should take off, but unfortunately the excitement level plateaus not long after the murder. Yes, there are all kinds of possible motives and side characters with an angle on the Grimbergs. A creepy lawyer, a gruff janitor, disgruntled liquorice stampers – you get the idea. Rumours have ripped through the town about the Ferryman killer, because of the liquorice coins on Gunnarson's eyes, and Tuva goes back and forth between sources a great deal, giving the book a procedural feel. Although she starts finding spooky little skulls made out of snow with liquorice in their mouths now and again, it takes a long time for the tension to ramp up and, as a mystery, Red Snow doesn't seem to go anywhere for extended periods.
What is fascinating is our journey inside the factory. The surviving Grimberg women actually live in the upper section of the building above the production lines, canteen, delivery bays and so forth. Their domain is vast, but a closely guarded secret. When Tuva finally manages to penetrate their Grand Room, she finds it a bit like Miss Havisham's halls in Great Expectations and the characters themselves are in a matching state of decay. The grandmother, Cici, has a huge collection of vintage clothing and jewellery, and watches over the town from the attic, pretending to conduct a puppet show, of sorts. Karin, the granddaughter, has a cabinet full of poisons and quite a few knives. Anna-Britta worries about the factory's declining business, and oversees the odd rituals carried out in the Grand Room.
They say it's about the Grimberg family fulfilling their commitments as the largest employer in the community, but their practices are superstitious and Gothic in the extreme. A three-legged rabbit limps around the place, while Cici strokes a rabbit's foot that hangs at her neck…
While these resilient women are front and centre for Tuva, who feels strangely drawn to them, what she finds out doesn't feel all that joined up. Lots of little suspicions, but little overall intrigue as far as the murder and suicide are concerned. In contrast to the first novel, you rarely feel she's in much personal danger until the very end. Will Dean's prose is great, he knows rural Sweden inside out and evokes a superb sense of place and a creepy atmosphere in Red Snow. Tuva Moodyson remains a gem. This book is definitely worth reading if you enjoy Scandinavian crime fiction, and with its deep and complex family drama it may well interest fans of Donna Tartt. However, the story only congeals like blood on snow in the very last stages of the book. It's a top-notch ending, but the build-up is too long and winding.
Read an interview with author Will Dean here.
Point Blank
Print/Kindle/iBook
£3.47
CFL Rating: 3 Stars