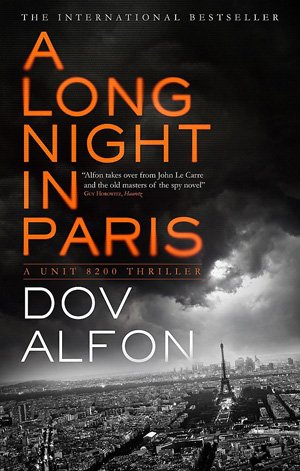 Translated by Daniella Zamir — This espionage thriller does indeed occupy a long night in Paris, in Jerusalem, and in several other Israeli locales. Looking back at all the action packed into Dov Alfon's debut novel, it's hard to believe so much can happen in a little more than 24 hours! But that's what led it to be Israel's bestselling book of 2016-17, now available in English for the first time.
The story begins one morning when a gregarious Israeli software engineer disappears from the arrivals hall of Charles de Gaulle Airport. An irrepressible flirt, he peels off from a group of colleagues en route to a conference to link up with a beautiful, tall blonde. It's as if they disappear into thin air because, although security cameras record them entering the parking garage elevator, they're never seen leaving it.
Called to the scene only because the airport's chief of police is on holiday, Commissaire Jules Léger grudgingly organises an investigation, predictably hampered by too many cooks: airport security, the Israeli police representative for Europe, a mysterious Israeli security colonel named Zeev Abadi and, most uncooperative of all, El Al security.
Abadi is a Tunisian Jew who grew up in the Paris suburbs. At midnight this very night he's meant to assume his new role as head of Israeli intelligence's SIGINT unit. Until then, beautiful Lieutenant Oriana Talmor is in charge, but she's back in Tel Aviv and from that distance, while she has bureaucratic power, all she can really do is pull rank on Abadi.
At the airport, Abadi insists that instead of taking the elevator down to the garage the pair must have taken it up. The upper level is being used by the airlines maintain large storage containers. Though there aren't supposed to be any cameras up there, El Al has one. When the authorities finally view the footage, they see the hapless Israeli being attacked by a pair of Chinese thugs and thrown into a sewer pit where survival is impossible.
It isn't long before Abadi realises this attack was a case of mistaken identity. The first puzzle is to figure out who the intended victim was. Here Abadi calls on the help of Talmor and her team back in Israel. Although most of the short chapters are written from the point of view of Abadi, Talmor or Léger, some are from clueless higher-ups in the Israeli and French governments, the various criminal operatives involved and the intended victim – a young man named Vladislav Yerminski. He's checked into an expensive hotel with a suitcase full of electronic gadgetry, though it's a wonder that the bag got through airport security.
It's a multinational cast of characters and you're well along before you realise what game Yerminski is playing and who's behind the Chinese operatives. All the bureaucrats are busy trying to spin the Israeli man's undignified death in a way that brings no discredit to them and doesn't reveal the shortcomings and errors in their own intelligence work. The Chinese assassins who murdered the wrong man aren't masterminds either and because they work in a rogue system that does not tolerate error, they are doomed.
Talmor soldiers on gamely, trying to gather information for a man she's never met, thousands of miles away. She and Abadi know that once they identify the real target, their next challenge will be to uncover the clues that will let them find him.
Alfon came to the writing of this book with the perfect resumé. The perspectives of a lifetime lend a strong sense of realism to the scenes and to the interactions of people at all levels. He knows Paris, having been born and raised there. He is himself a former intelligence officer in the Israeli Intelligence Corps' Unit 8200, which is responsible for signal intelligence (SIGINT) and code decryption. His political acumen was honed as a former cultural observer and editor-in-chief of Israel's major newspaper, Ha'aretz, and he served as an editor for Israel's largest publishing house. The translation is excellent also.
Try the classic espionage story The Day of the Jackal, also set in Paris, or for another recent Israeli thriller there's Death in Shangri-La.
MacLehose Press
Print/Kindle
£8.49
CFL Rating: 4 Stars