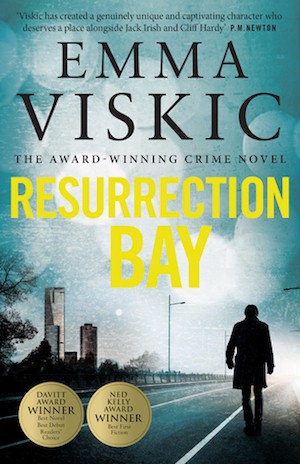 Written by Emma Viskic — Over the five years I've been reviewing for Crime Fiction Lover, some of my most memorable reads have featured protagonists who are that little bit different. There was Maggie Quinn, terrified of the dark in Dianne Gallagher's Too Dark to Sleep; Alison Gaylin's hyperthymestic syndrome sufferer, Brenna Spector in And She Was; and PTSD victims Scott James and his dog Maggie in Robert Crais's Suspect.
It's time to add Caleb Zelic to the list. Caleb is a Melbourne private investigator whose Trust Works agency has been engaged by an insurance company to look into a some major warehouse robberies which bear all the hallmarks of being an inside job. Caleb calls on his old police officer friend Senior Constable Gary Marsden to do some digging behind the scenes. It's a move that proves fatal for Gary and sets Caleb on a collision course with some very dangerous people.
All sounds pretty formulaic so far, but bear with me because Caleb isn't merely a struggling investigator. A childhood illness left him profoundly deaf, and it's this portrait of a man battling to cope with (and disguise) his disability in an all-hearing world that really gives this debut novel its edge.
Viskic works hard at creating a portrait of the world through Caleb's eyes. He spent the first few years of his life as an ordinary, hearing child, which makes the experiences of  adult deafness all the harder for him to take. There are times when he cannot understand the person who is speaking to him, either because they are mumbling, have a strange accent or keep turning away, and the climactic scenes are given extra drama because Caleb can't hear anything going on behind him. He's quick to jump into things, only to realise that his deafness is a major disadvantage – and a scene with a man who makes fun of Caleb's disability is a particularly telling one.
His partner in Trust Works is Frankie Reynolds, an ex-cop who has a fair amount of her own baggage to tote around. She's a recovering alcoholic, but her huge network of contacts and a touching (if at times spiky) empathy with her partner makes her the perfect foil to Caleb, although her sign language skills clearly need some work. While Frankie is an 'act first, ask questions later' kind of girl, Caleb likes to take the time to read people – a skill he has in spades. But when his old friend Gary is implicated in the warehouse heists and worse, Caleb's faith in his intuition is shaken. Could he really have got things so wrong?
Prepare yourself for an intricate plot with more tentacles than an octopus. Alongside murder and robbery, Caleb has plenty of other things to keep him occupied – like a disappearing Frankie, reluctantly forming an uneasy alliance with his ex-wife, and dodging the unwelcome attention of homicide detective Uri Tedesco. He also has to face his ghosts with a return to home base in Resurrection Bay. It's a place that holds many memories for him and not all of them good.
There's a bumper bundle of characters to keep things moving along nicely although there are times when you'll need to pause for a second or two to remind yourself of who's who. There could also be a greater contrast between the small town of Resurrection Bay and the big city vibe of Melbourne. These quibbles aside, this is a most enjoyable read, and Caleb Zelic is a great character. Viskic handles the portrayal of his deafness perfectly, highlighting the problems he faces in actually understanding the people he interacts with and also shining a light on the casual discrimination and abuse thoughtlessly meted out to disabled people. In her research for Resurrection Bay, the author studied Australian sign language to add to the authenticity of the novel and that work really pays off here.
This book has won a slew of plaudits in its native Australia – including the prestigious Ned Kelly Award for Best Debut of 2016 and an unprecedented trio of Davitt awards – and the good news is that Caleb is due to return in And Fire Came Down. I'll be watching out for a publication date as I can't wait to make his acquaintance again.
For another interesting book where deafness plays an important role, try the historical crime novel The Children of Silence.
Pushkin Vertigo
Print/Kindle/iBook
£4.75
CFL Rating: 4 Stars