English crime author Mick Herron didn't begin his writing career with the Slough House series, but there's no doubt these novels represent his most successful work. The London setting, cast of memorable characters and espionage storylines have made the series ripe for adaptation, and it's no surprise Apple pulled all the stops, casting such famous names as Gary Oldman, Kristin Scott Thomas, Jonathan Pryce and Sophie Okonedo with the production of Slow Horses, which you can now watch on Apple TV+.
The central conceit of the books is that MI5, like any large organisation, needs somewhere to place its most hopeless employees, and this place is Slough House, a building just around the corner from the Barbican Centre. They're not allowed anywhere near MI5 HQ, which is referred to as Regent's Park although the organisation is no longer based there.
In the dilapidated offices of Slough House, these files spooks spend their time on various pointless tasks, designed to break their will and bring about their resignations, avoiding the hassle, expense and bad publicity of employment tribunals. One of the first things to appreciate is that each novel is an underdog story – a group of individuals, under-qualified and under-resourced, who have to beat their better-off cousins at The Park to save the day.
Part of the popularity of the series lies in the fact these books simply make you feel good. Everyone enjoys an underdog story of course, but on top of that, the novels are about friendships forged from the common bond of disappointment but tested in life-and-death situations. It's not universally true – no-one likes the character Roddy Ho, for example – but River Cartwright and Catherine Standish form a bond, as do Louisa Guy and Min Harper, and Shirley Dander and Marcus Longridge.
Humour is another a core ingredient of the series. The subject matter allows for some sophisticated satire and some notable current politicians are lampooned pseudonymously. Alongside that are running gags, observational humour and the vulgar insults Jackson Lamb regularly spits at his team. These are remarkably politically incorrect, but work because of Lamb's unbreakable loyalty to his misfit crew.
That's not to say there isn't heartbreak. Right from the first book, Herron shows he's not afraid to kill off his creations and some of those deaths hit very hard indeed. His deft and sympathetic characterisation affords the reader a connection with the slow horses (the Park's nickname for their castoffs) which grows with every triumph, every obstacle overcome, and their losses are felt keenly.
Before we discuss the books in more detail, let's have a look at some of the main characters.
Jackson Lamb is the head of Slough House and a former Joe, or field agent in Slough House slang. This might explain his loyalty to his team when they are in peril, and makes his otherwise rude and bullying behaviour towards them forgivable. He's overweight, frequently drunk and appears dishevelled, but many enemies make the mistake of underestimating him. Lamb retains all of his old skills and is a fearsome operator. Unlike the rest of the team, the reason for Lamb's demotion to Slough House is never revealed.
Catherine Standish is Lamb's assistant, and a recovering alcoholic. She used to assist Charles Partner, who was First Desk at Regents Park until his suicide – something it's rumoured Lamb might have had a hand in arranging. Partner had been selling secrets to the Russians.
River Cartwright was sent to Slough House after a training exercise left King's Cross crashed. He's a serious young man, and of all the slow horses the most upset at his demotion. He was raised by his grandfather, David, a service legend, and grew up hearing stories of his time in the service.
Louisa Guy was sent to Slough House after she lost a tail involved in gun smuggling. She is one of the most competent agents and appears in every book. She and Min Harper had a brief but intense affair which ended in tragic circumstances.
Roddy Ho is the computer whiz, uber-geek and the butt of everyone's jokes, not just Lamb's. He's ineffectual, arrogant and completely unaware of his failings.
Shirley Dander and Marcus Longridge are the odd couple, though they're not even a couple. She was in comms at The Park before she laid out a co-worker, and also has addiction issues. He used to break down doors and carry a gun before his gambling problems compromised him.
Outside of Slough House there is Diana Taverner – Lady Di behind her back – the ultra-ambitious Second Desk in charge of Ops. She's a canny political operator with her eyes on First Desk. Her sometimes ally – or enemy depending on which way the wind is blowing – is Peter Judd, Tory politician and grandee. He is as corrupt as any of the villains in the series.
Some crime series can be read in no particular order but this is not the case here. Herron builds his characters and reveals more about them perhaps as the series unfolds. To appreciate them fully requires an understanding of what they have gone through before. Dander's character arc, for example, can only really be seen through the prism of her developing friendship with Longridge. Beyond the individual storylines exist a set of meta-plots, developing over the series as a whole, which again must be read in order.
Slow Horses – 2010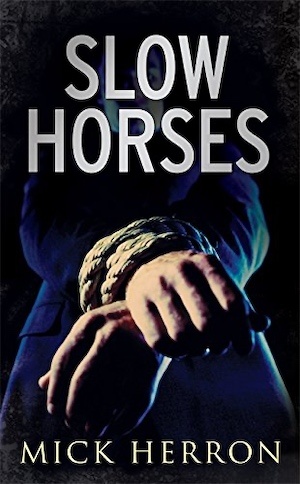 At the height of the war on terror, a British subject is abducted by a terror cell and his beheading is to be streamed live on the internet, but the young man is a British Asian Muslim and the terror cell part of a far-right splinter group. The group have links to a disgraced journalist that Slough House have been investigating. Involving themselves in the drama, the slow horses soon realise that the machinations of The Park are even more twisted than they could ever have imagined. Meanwhile, River comes closer to answering his most burning question: who engineered his transfer to Slough House?
Buy now on Amazon
Dead Lions – 2013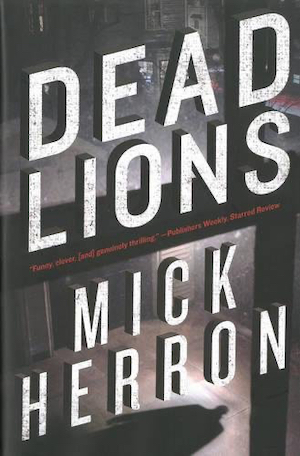 Without Lamb's knowledge, Louisa Guy and Min Harper are seconded by The Park on a baby sitting job. A Russian oligarch is visiting London and elements of The Park want to turn him because a potential future Russian president who owes British Intelligence would be a massive coupe. At the same time, Lamb is out in Oxford looking into the suspicious death of a retired agent. The only clue he finds is an undelivered text – Cicadas. So, what connects the oligarch with an old rumour of Russian sleeper agents? Herron won the prestigious CWA Gold Dagger for this novel, though for my money his debut is a better book.
Buy now on Amazon
Real Tigers – 2016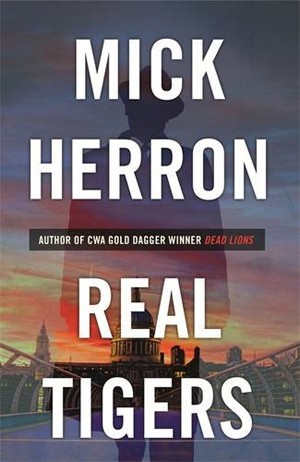 Catherine Standish is abducted by a disgraced soldier with service connections in his past. River cartwright is contacted by the kidnappers and sent into The Park to retrieve secret documents in exchange for her release. Peter Judd, now home secretary, has plans to use the situation for his own ends, but his Tiger Team have motives of their own which don't necessarily ally with Judd's. Lamb and Taverner will have to work together to maintain MI5's independence, but can they put their history of betrayal and revenge behind them? Shortlisted for the CWA Gold Dagger, Ian Fleming Steel Dagger and the Theakston Old Peculier Crime Novel of the Year Award.
Buy now on Amazon
Spook Street – 2017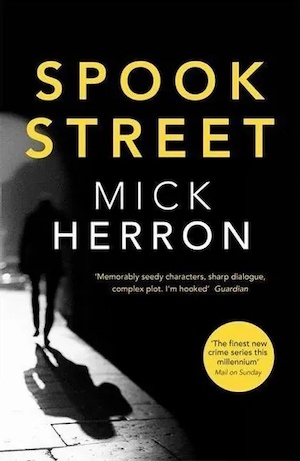 Regent's Park has lost three cold bodies – identities or legends in the trade – worked up by the civil service from birth to provide rock-solid cover cover for a Joe in the field. One of them has been used to commit a terrorist atrocity in a London shopping centre. Another has just failed in an attempt to kill David Cartwright. River goes undercover in France to try to find the source while the other slow horses try to work the angle from London.
Spook Street is one of the darker novels and what little comic relief there is, is provided by Roddy Ho getting a girlfriend, a plot thread which is pulled in the follow up novel, London Rules. It also lays the ground for the events of Joe Country, and at the same time introduces a series villain, ex-CIA operative Frank Harkness. This novel is a series highlight for me, and went on to win the CWA Ian Fleming Steel Dagger Award as well as being shortlisted for the CWA Gold Dagger Award, The British Book Awards and The Theakston Old Peculier Crime Novel of the Year Award.
Buy now on Amazon
London Rules – 2018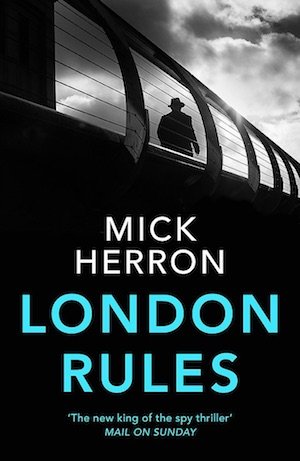 A North Korean hit squad is conducting a terror operation on British soil, and one particular fly in the ointment is that the plan they are working to is one of the Park's own. Meanwhile, Claude Whelan, current First Desk, is caught between a weak PM and a populist MP flushed from a successful Brexit referendum. This, like Real Tigers, is one of the more action-packed adventures in the series, and one where several earlier plot lines are resolved to move the bigger story forwards. A befuddled Roddy Ho's thoughts on The Park's plumbing is worth the price of admission alone. Shortlisted for a number of prestigious awards including The CWA Steel and Gold Daggers, and The Theakston Old Peculiar Crime Novel of the Year Award.
Buy now on Amazon
Joe Country – 2019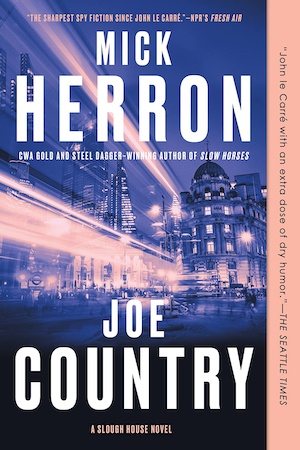 Claire Harper calls Slough House for help after her teenage son, Lucas, goes missing. Louisa Guy goes to Pembrokeshire to find him; after all she had been in a relationship with Min, another slow horse and Lucas' father. Lucas had seen something he shouldn't have whilst working a holiday job and his attempt at exploiting the situation is having profound consequences. Frank Harkness, renegade ex-CIA spook, has been brought in to clean up, triggering a confrontation with River at David Cartwright's funeral. Joe Country is a triumph and, in my opinion, the series highlight so far. It brings to a close several series plots and leads to at last one emotional farewell to a series character. Like the previous novels, it was shortlisted for a number of prestigious wards.
Buy now on Amazon
Slough House – 2021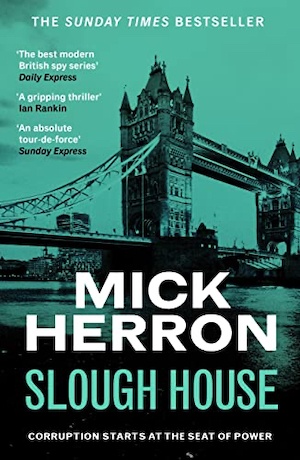 A private funding deal, worked out in secret between Diana Taverner and Peter Judd, gives the Park the resources to strike back at Putin, sending a hit team into Russia to rub out the Novichok poisoners. However, one of the business men behind the deal, looking to make contacts in Russia, passes on sensitive information to the GRU who are looking to escalate matters. Slough House has been compromised, and now a new team of killers is in the UK. They're looking to pick off the slow horses one by one.
Buy now on Amazon
Bad Actors – 2022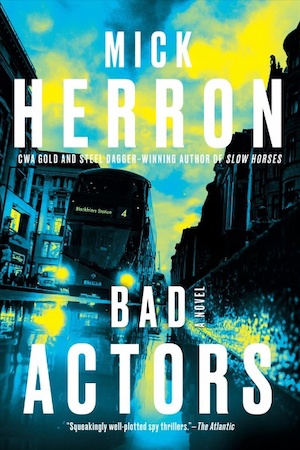 Bad Actors takes a look at Brexit and the government advisor who engineered it. Sparrow's ambition doesn't end there though. He wants a tame intelligence service ready to do the PM's bidding and leaks rumours that a government advisor has been subject to extraordinary rendition by an MI5 gone rogue. Thus compromised, Lady Di is forced to go on the run, and has to reach out to the one person she would least like to ask for help… Jackson Lamb. Here, Herron introduces a new slow horse, Ashley Khan, and further develops his subplot of Russian interference in the British establishment.
Buy now on Amazon
Also see Mick Herron's standalone novels, Nobody Walks and This Is What Happened? Both are excellent books and reviewed on our site. Nobody Walks is even set in the same espionage world as a retired spy digs in to his son's mysterious death.