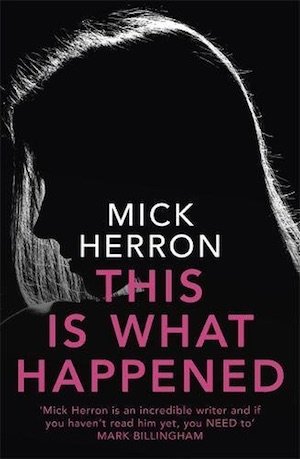 Written by Mick Herron – Since 2013, Mick Herron has been writing about London's espionage community to great acclaim. There are four novels so far in his satirical Jackson Lamb series, with a fifth, London Rules, arriving this summer. Dead Lions was awarded the 2013 CWA Gold Dagger, and Spook Street won the 2017 Ian Fleming Steel Dagger. You can read our reviews of Slow Horses, Dead Lions, and Real Tigers.
In 2015, Herron published a standalone novel, Nobody Walks. Darker in tone, it was nonetheless a success, and was shortlisted for both the CWA Gold and Steel Daggers, and the Theakston's Crime Novel of the Year Award. We also reviewed Nobody Walks very favourably. In other words, if you're looking for a new favourite author, look no further.
As it begins, This is What Happened appears to favour Nobody Walks more than the Jackson Lamb series, being another dark, standalone spy thriller set in London. It is a story about three Londoners: Maggie Barnes, her sister Meredith, and Maggie's MI5 handler Harvey.
Maggie has been in London for a couple of years, and is somewhat lost in the big city. Friendship, romance, a great career – all have eluded her, yet she carries on, fighting her loneliness and getting by. A mild resentment of her older, more successful sister has been allowed to fester, and the pair haven't spoken for a couple of years. She works in the post room at Quilp House, a large City institution. If pushed, Maggie couldn't say exactly what their business is. It is this combination of attributes which catches Harvey's eye. He is looking for an outsider – a civilian – for a deniable, off-the-books operation at Quilp House, and Maggie's naivety and insecurity – what better way to make a mark or have an adventure? – make her vulnerable to recruitment.
The novel actually begins, and thrillingly so, with Maggie's mission. It's midnight and she is hiding in the ladies' toilets on the seventh floor of Quilp House. She has to deliver a computer programme, a kind of Trojan horse, into their system. Capture means interrogation and probably death, Harvey has left her in doubt about that, at the hands of the Chinese who have been running Quilp House as a frontline in the economic war with the West. The mission is a success but a costly one as Maggie kills a security guard to escape.
Maggie's recruitment is told convincingly in flashbacks. The initial approach at a park café that is rebuffed; the apology with a single flower the following day, then the increasingly regular meetings with Harvey first taking Maggie into his confidence; the piecemeal revelations about China's war with Europe and the part Maggie could play in it; everything plays out very much like a seduction, and is a very accomplished piece of writing.
Approximately a third of the way through the novel, the story takes a dramatic, dark turn. Without saying too much, Harvey is not all he seems. In fact, he is a fantasist and a psychopath. If This is What Happened begins as a thriller similar to Eric Ambler's stories of ordinary people plunged into political intrigue, it moves into psychological noir territory. If Hitchcock was still alive and making movies I imagine he would be moving Heaven and Earth for the rights. The psychosexual themes in the relationship between Maggie and Harvey would be irresistible to him.
Although the spy game only has a tangential relevance to the plot, Herron draws our eye to the deceptions involved. There is little difference between actual recruitment and Harvey's twisted games – both are about playing on people's vulnerabilities and manipulation. Real espionage, Herron is saying, is a nasty business, quite different from the humorous escapades of his Slow Horses.
There are also themes of alienation in modern life, how easy it is to become lost and alone in a city of several millions, and ultimately how important it is to keep those dear to you close. Appropriately, and in contrast to Nobody Walks, it ends on an optimistic note. This isn't forced, or trite, but just what the story demanded. Herron can't put a foot wrong.
This is What Happened is out 30 January in the US and in July in the UK. For more London-based crime fiction try Christopher Fowlers's Bryant and May series.
Soho Press
Print/Kindle/iBook
£10.99
CFL Rating: 5 Stars