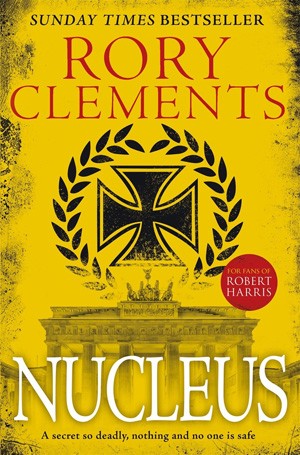 Written by Rory Clements — Crime in Cambridge in the 1930s is in the spotlight in the series of books of both Nicola Upson and Rory Clements. The university city during the seismic events leading up to World War II is a fertile location with its spies, Nazi sympathisers, atom-splitting physicists and IRA terrorists planting bombs. Clements uses this backdrop to great advantage in this second outing for his history professor, Tom Wilde, who we first met in Corpus. Wilde is a spy for both the British and US governments.
It is June 1939. In Germany scientist Otto Hahn has achieved nuclear fission for the first time and the Nazis have tasked a group of physicists to build a superbomb to guarantee their victory in the upcoming war. In Cambridge's Cavendish Group laboratory, where the atom was first split in 1932, scientists are working to make their own nuclear breakthrough.
During a trip to visit his ailing mother in Boston, Wilde is invited to the White House and asked by President Roosevelt to find out how close the Cavendish scientists are to harnessing nuclear power. "If anyone looks like they are going to get a superbomb, I want to know about it," the president says.
Though he is a history professor, Wilde is connected to the project. His friend Dr Geoff Lancing is a Cavendish man and Dr Paul Birbach, a leading physicist, is at Wilde's college. Wilde is scarcely back in his rooms in Cambridge when he is asked by The Times journalist working for MI6, Philip Eaton, to take in a couple of Jewish scientists who are being sprung from Dachau concentration camp. Matters are complicated when the son of the female scientist is kidnapped from the Kindertransport that is due to reunite him with his mother in Cambridge.
Unknown to Wilde, his lover Lydia puts herself in harm's way when she travels to Berlin to find the lost boy, as his mother is an old university friend.
In Cambridge, the May balls are in full swing, and Lancing takes Wilde to a party at the country home of Milt Hardiman, who is meant to be Wilde's American contact. He doesn't trust the loyalties of this insanely rich man, but accepts all invitations to hang out with this set so he can find out what is going on. Birbach the scientist is a guest too and when he is murdered it is unclear whether he has taken important nuclear secrets to the grave with him.
Wilde's own scruples and loyalty to Lydia are seriously tested when Lancing's famously beautiful Hollywood actress sister Clarissa strips naked and throws herself at him. Is she driven by lust or is she a deadly femme fatale up to her neck in Nazi nastiness?
Wilde makes an excellent spy, though one with scruples rather than zeal for a cause. As an academic expert on the Elizabethan spy Francis Walsingham, he understands the game and its consequences. (Clements' John Shakespeare thrillers are based on espionage in that era). Wilde is a dazzling academic with a love for Lydia, who is a great protagonist and emerging sleuth too, and for motorcycles, birdwatching and boxing.
There's an intricate web of plots, conspiracies and subplots and connections that stretch from Cambridge to Berlin and the US to Ireland and a large cast of interconnected characters. This adds to the richness of this enthralling ride to discover the secrets of the early nuclear arms race and determine the outcome of the war. Everything is connected to the approaching war and struggle for power, including the IRA bombing campaign and American-German Federation. I loved the intricacies of this puzzle and can't wait to be thrust back into the dizzying (anti) social whirl of pre-war Cambridge again.
For a similarly intense WWII conspiracy, but set in Oxford and involving eugenics, try Sam Bourne's Pantheon. You'll find some post-WWII espionage in academia in Gavin Scott's Duncan Forrester series.
Zaffre
Print/Kindle/iBook
£8.96
CFL Rating: 5 Stars