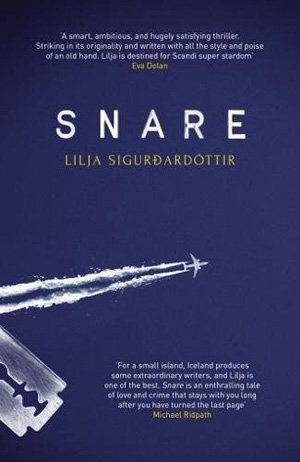 Written by Lilja Sigurdardottir, translated by Quentin Bates — Icelandic playwright Lilja Sigurdardottir has written four crime novels which means she's fairly well established on the glaciated island, but this is her first English translation. She is clearly relieved in her notes at the back of the book, now that she can reach beyond what she refers to as a dying micro-language and the country's small population. It's a relief for us too as we've been waiting for this translation for a couple of years. And, it has been worth it. This author certainly adds a different and interesting new voice to the Scandinavian strain of crime fiction.
We enter the world of drugs mule Sonja Gunnarsdottir. She's not just any drugs mule. She doesn't swallow condoms full of heroin or anything like that. Sonja is the most inventive one there is, and has ways and means of defeating customs you'd never imagine including suitcase swaps, complex wrapping techniques, hidden linings… and sniffer dogs had better look out! Mostly, though, it's her carefully practiced unassuming manner.
Sonja isn't really a criminal, though. She's being exploited by slimy lawyer Thorgeir and his hired muscle, Rikhardur. The book is called Snare because Sonja has been trapped by these men, although the nature of her entrapment is only gradually revealed as the story unfolds. Sonja's dream is to regain custody of her nine-year-old son from resentful ex-husband Adam, and every krona, dollar and euro she earns is saved for the apartment they'll one day inhabit.
It's the run-up to Christmas 2010 as the book opens and Sonja is smuggling a kilo of coke through Keflavik airport. Soon after this success we meet Agla. A bit older than Sonja, her lover is an alcoholic, a former colleague of Sonja's husband Adam, and a disgraced banker under investigation for currency speculation among other things. She doesn't consider herself to be a lesbian, and she teeters between lust for Sonja and angry tirades whenever any real love is expressed.
Sonja's yearning to be with Tomas and troubled love life give Snare its emotional depth, and both relationships are sensitively portrayed. Lesbian affairs aren't often the fare in crime novels, and here we see a relationship with all its frayed edges, missteps and aggravation, alongside the more tender moments. However, Sonja's love of Tomas is the more powerful factor, and when Thorgeir draws the boy into his manipulations everything becomes more urgent and anxious.
Instead of one kilo at a time, Thorgeir wants three, four, five… Sonja has other ideas and her success fooling customs officials has emboldened her. But is it really a good idea to call the bluff of a connected drug trafficker? And how is Sonja going to deal with Braggi, the senior customs officer who has noticed just how frequently she passes through Keflavik?
Bragi is the book's secondary sympathetic character. He's nearing retirement age and his wife Valdis is already in a home with dementia. Bragi is learning to cope on his own after being cooked and cleaned for when he went off to work every day, and is deeply lonely now that Valdis can barely talk. He's also concerned about the bruises he's seen on her arms and about the nonchalance of the care home staff. Having seen through Sonja's unassuming manner, watching her pass through Keflavik seems to be what gives Braggi's life meaning.
The vast majority of the books we review deal with a murder investigation, and perhaps a serial killer or a deadly conspiracy. Snare is an entirely different. It relies heavily on its characters, the connections between them, and their emotional strings. The book is evenly written, though at times it could use a bit more excitement and drive. Even when the characters are being irrational, they seem a little too pragmatic and downbeat. The reveal at the end isn't too hard to guess.
But that isn't a bad thing. It's nice to be right when you're reading a crime book, and the way Lilja Sigurdardottir writes there's not much chance you'll want to put this book down once you're in Sonja's world. Each of it's snappy chapters drips with possibility as you try to work out how things will pan out for Sonja, Bragi and Agla.
We have a tendency to idealise Iceland, with its dramatic volcanic landscape, enigmatic outpost culture, puffins and – yes – the hidden people. Lilja Sigurdardottir doesn't play to any such romantic ideals, instead shining a light into the sordid side of Reykjavik during a period when, let's not forget, Iceland's real life financiers had ripped off private citizens, businesses and public bodies across Europe. This story isn't just the thrilling tale of an inventive lesbian drugs mule, it puts the drug trafficking parallel to the financial and political corruption that went on. Fascinating. I want to see more…
Can't get enough of Iceland? Try the Erlendur novels by Arnaldur Indridason, read about the latest from Yrsa Sigurdardottir here, or try Ragnar Jonasson's Dark Iceland series.
Orenda Books
Print/Kindle/iBook
£4.31
CFL Rating: 4 Stars