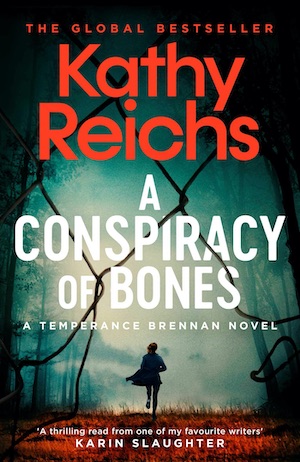 Written by Kathy Reichs — We're at book 19 featuring forensic anthropologist Dr Temperance 'Tempe' Brennan, and as A Conspiracy of Bones opens, our heroine is at home in North Carolina recovering from neurosurgery following an aneurysm. It's the first sign that this novel is a little different from all the rest.
Tempe's brain isn't firing on all cylinders and neither is her mobile phone, which is destined to lose power in all manner of inopportune moments as this story unfolds. Both facts are important to the plot, and at times Tempe's struggling synapses really blur the lines between fact and fiction. Does everything she thinks she experiences actually happen? Sometimes, it is hard to tell.
But back to the beginning, where Tempe's pesky mobile receives several crime scene photos from an anonymous source. Yes, she's supposed to be taking things easy but this is a corpse without a face or hands – enough to pique the interest of any self-respecting forensic anthropologist, surely? Then a mutilated body matching those images is discovered and Tempe is all for jumping in to help with the investigation. But she has a new boss following the death of her superior and friend Tim Larabee, and the newbie and Tempe have history and can't stand each other. In fact, chief ME Margot Heavner soon makes it abundantly clear that she needs no help from Tempe at all, leaving her out in the cold and seething at the injustice.
So Tempe goes home and puts her feet up. Ah, who am I trying to kid? Of course she takes no notice and is soon teamed up with former cop Skinny Slidell, now retired and working as a private detective while volunteering at the Charlotte-Mecklenberg Police Department's cold case unit. The pair begin their own investigations and are immediately dragged into the world of the Dark Web, underground bunkers, poisonous podcasters, missing children and rampant conspiracy theories. Yep, Reichs is throwing everything but the kitchen sink at this one!
They have no real standing in the legal sense, but that's not going to stop our pair and while Tempe and Skinny conduct their illicit enquiries, it leaves little time for her to actually do the job for which we know her best. In fact, we barely see inside a morgue throughout this book. Which is a great pity, because those quiet moments when Tempe is alone with her bones have been some of the highlights of this series. Instead, she is out and about, taking all kinds of risks and putting herself in danger. The woman has just had a major operation and her bordering-on-the-ridiculous behaviour stretches credulity somewhat.
A Conspiracy of Bones is a sprawling story with myriad little plot offshoots. It all gathers at a steady pace – then there's a huge flurry of loose end tying that's rushed and leaves the reader feeling a wee bit short changed. It's a pity, because fans have been waiting for this one with bated breath.
In her notes at the end of the book, Reichs reveals that she took a year off from writing last year for treatment on a cerebral aneurysm – the same illness she hands on to Tempe in this book like a baton in a relay race. I found the insights into the condition, and its after-effects, intriguing and fascinating and it's certainly brave to bring it to life in such a well-loved and solidly established character.
Will there be more? Well this one is left up in the air, with a final sentence that could lead to book 20 or be… maybe… final. We will just have to wait and see, won't we?
Find out how Tempe Brennan got into forensic anthropology in The Bone Collection, a set of four novellas, reviewed here. Old bones play a big part in Val McDermid's Broken Ground.
Simon & Schuster
Print/Kindle/iBook
£9.99
CFL Rating: 3 Stars