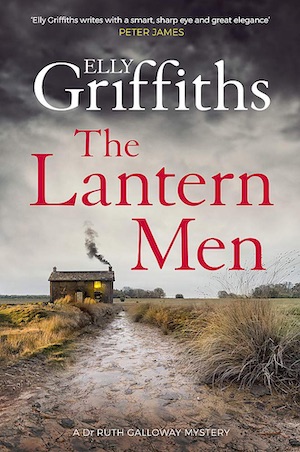 Written by Elly Griffiths — The best crime book series – for example, the likes of Bosch and Rebus – keep the readers coming back by always surprising us. Yes, we know the central characters well, but just leaving them plodding along the same old furrow is dull, predictable, and ultimately, a turn off.
So it's bravo to Elly Griffiths for hitting book 12 of the series featuring forensic archaeologist Dr Ruth Galloway and immediately taking Ruth right out of her comfort zone – literally. As The Lantern Man opens, Ruth is no longer living in Norfolk. She has a job at a Cambridge university college, lives in the city and has a new partner in the shape of Frank Barker, an American academic who is also something of a TV personality.
Ruth works in beautiful surroundings, is comfortable in her relationship with Frank and daughter Kate has settled down well in her new life too. So what is it that keeps niggling at the back of Kate's mind? I spy, with my little eye, something beginning with N! You see, although Kate is now living what appears to be a perfect life, she still can't help thinking about Nelson – her former lover, the father of her child, and the vital second half of Elly Griffiths' award winning double act.
Back in North Norfolk, DCI Harry Nelson and his team members are celebrating the conviction of murderer Ivor March. He was found guilty of the deaths of three women, but Nelson is convinced March also killed two more, and when he is summoned to see March in prison, Nelson goes in the hope of nudging a confession. But March is a master game player and demands someone else comes along too – Ruth. He offers to give up the details of where the bodies are buried, but only if Ruth does the excavating. Does she agree? What do you think!
And so Nelson and Ruth are thrown together once more, and Elly Griffiths plays them both like a Stadivarius violin, charting the ebb and flow of their deeply buried feelings while leading us on a cleverly crafted crime journey too. Because the more Nelson and his team learn about March, the less likely it seems that he was the actual killer. Fans of the dyed-in-the-wool detective can guess that this isn't something Nelson is keen to hear, but if March didn't commit the crimes, then who on earth did?
There are two casts of characters at play here, both neatly conceived and wholly realistic. On the one hand we have the mostly familiar – Nelson, his second in command DI Judy Johnson, DI Dave Clough (who has left North Norfolk but still has a part to play), DS Tanya Fuller and team newbie DC Tony Zhang; on the other? Well. it's complicated. There's Ivor March, his ex-wife Chrissy, his current partner Chantal, plus assorted followers, artists and hangers-on. You need to keep an eye on everyone because this isn't an author who ever lets her foot off the gas.
The Lantern Men is a beautifully written book, liberally endowed with sweet sentences that will make you smile at their cleverness and wit. As ever, the landscape is given a central role and as the temperature builds and then breaks we see Ruth's beloved Norfolk in myriad hues. There's also an ancient bit of folklore at play too – the lantern men of the title are mysterious figures rumoured to lure travellers to their deaths in the marshes. It gives this story an added frisson of unease.
There's so much going on in The Lantern Men, both in plain view and below the surface. We have a great mystery to solve, in some stunning scenery, accompanied by characters who have become friends. But there's always a nagging doubt about Ruth and Nelson, and that plays a huge part too. Both appear perfectly happy with the way things have panned out, but as we crime lovers know, appearances can be mighty deceptive. I'm not sure I can wait another year for the next instalment of this compelling tale.
Here's our review of the 11th in the series, The Stone Circle. Catherine Steadman's Mr Nobody is also set in Norfolk. Read our interview with Elly Griffiths here.
Quercus
Print/Kindle/iBook
£12.99
CFL Rating: 5 Stars