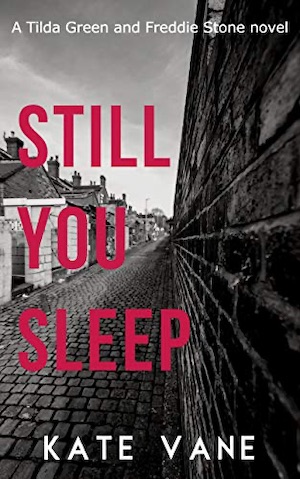 Written by Kate Vane — Journalists often make excellent lead characters as tenacious investigative reporters picking through the bones of crimes and societal corruption. Chris Brookmyre's Jack Parlabane is a standout of the type, a truth-seeking maverick, who'll let nothing stand in the way of justice through the printed story. In Still You Sleep, Kate Vane offers us two new journalists to get our teeth into. Freddie Stone and Tilda Green are freelancers who come together to collaborate on an investigation into the death of Vikki Smith in Leeds.

Freddie is a veteran crime reporter, formerly of the Yorkshire Post, and Tilda runs her own news website, a thoroughly modern incarnation of campaigning journalism. Freddie knows Vikki's mother, Margaret, from his early days when she worked in the Magistrates' Court. Vikki Smith was found dead, a needle hanging from her arm. There are complications though and this is no simple overdose. Vikki had learning disabilities and although she lived alone she had a support worker and a loving and attentive family. They are convinced it is murder.
Vikki's body was found in bizarre circumstances with some youthful would-be burglars accidentally broadcasting the discovery of the body on Facebook Live. Social media and Twitter are soon aflame, with the alt-right fanning the controversy in outrage that Vikki had been given a two-bedroomed house. An unpleasant hashtag #DeadToYou is stirring up hate speech, which all plays to Tilda's investigative strengths.
Each chapter is headed by the person narrating, with the bulk of them coming from Freddie and Tilda. We bob around between several characters. Ed is an intern at a private equity firm who spent some time sleeping over at Vikki's place when she got some hassle from local lads on the estate. Tilda's mother, Alison, introduces her to local politician Davy Brookes, a councillor sitting on the Leeds City Council as executive member for housing. They are all enmeshed in various familial and social relationships that are gradually exposed through Freddie and Tilda's efforts.
The best characters are undoubtedly the leads. In particular, Tilda is a strong compelling female character and she could, arguably, have carried the book on her own. Freddie leans towards cliché as a middle-aged drunk. Yet he is warm-hearted and good company. The book teases at the edges of petty motivations and ambitions. It also exposes the day-to-day challenges as Freddie and Tilda try to wrestle their personal lives into a semblance of control. This is local politics with long-held secrets bubbling under the surface around paternity and other grudges.
The dialogue, as you would expect from Vane who has written for TV drama, is crisp and smooth. There is a strong local northern flavour to Still You Sleep that exploits the atmosphere of Leeds and the nearby Yorkshire countryside. All the people in this world feel complex, real and rounded. There is also a sly humour throughout the book that livens up the prose and interactions.
The sheer volume of characters does press down on the story and the middle sags just a touch under the pressure of all their inter-relationships and machinations. This might be a first-book-in-series problem where we are introduced to the whole cast. The pace picks up again as Freddie and Tilda pull together the story. Still You Sleep is authentic Brit crime fiction with a regional sensibility that adds to the charm. The Freddie/Tilda duo has a lot of potential and I'm looking forward to more in the series from Kate Vane and her two investigative journalists.
For more crime fiction set in Leeds then try Chris Nickson and his 1950s Dark Briggate Blues. And, David Mark was, like the fictional Freddie Stone, actually a Yorkshire Post crime reporter and his DS McAvoy novels are set in Hull.
Independently published
Print/Kindle
£9.99
CFL Rating: 4 Stars