I want my crime fiction to take me to different places, often darker ones, that I don't recognise. So, there's no domestic noir here but there are two books featuring men called Keller, and a couple of them could prop open a pair of heavy oak doors. In addition, Scrublands is a fantastic debut and Will Carver has written a book that shouldn't work but is a stunning realisation of original storytelling. Narrowly missing my list but worthy of an honourable mention is a French crime novel, The Godmother by Hannelore Cayre, that was shortlisted for the Staunch Book Prize, that flags fiction that doesn't include violence against women.
5 – A Book of Bones by John Connolly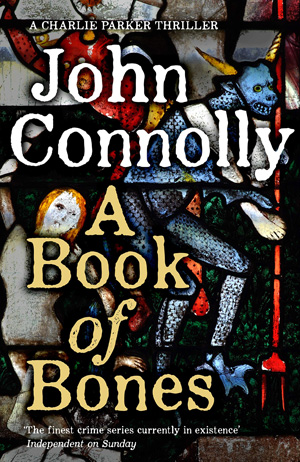 It is astonishing that Connolly has now got to book 17 of the Charlie Parker series and it remains a highlight of the year when the latest lands. Parker is on the trail of Quayle and Pallida Mors, leading him to Amsterdam and London. There is a murder in Northumbria, with elements of a police procedural and there are, of course, Parker, Louis and Angel. The trip to Europe gives Connolly the opportunity to layer in British folklore, in his imitable style, to this sub-genre of supernaturally flavoured crime in which this author is peerless. Read the full review and check out our complete guide to the John Connolly Charlie Parker series.
Buy now on Amazon
4 – Scrublands by Chris Hammer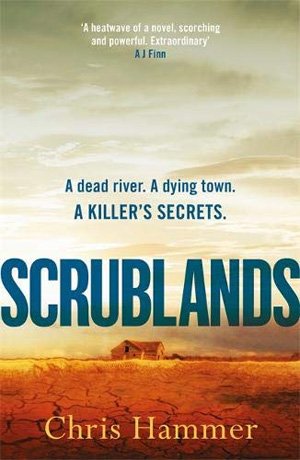 Martin Scarsden, a journalist, pitches up in Riversend, in western New South Wales, to write a feature on the town. It's been a year since the local priest gunned down five men and then shots himself in a shocking unexpected murder-suicide. It's a fine thriller with an Australian setting where one can almost feel the heat shimmer and taste the dust. Hammer captures the claustrophobic insularity of the small community and the supporting characters are richly painted. You can read our full review of Scrublands and the second in the series, Silver, is already a five-star hit with us and lands in print in January 2020.
Buy now on Amazon
3 – Sanctuary by Luca D'Andrea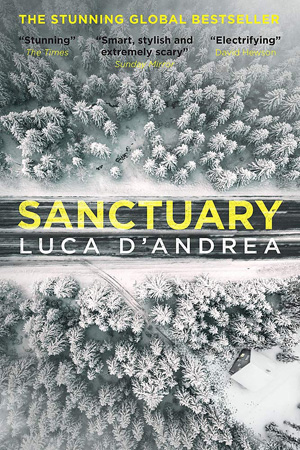 A top drawer thriller with an evocative setting and some spills and thrills on the way. Marlene is running to escape the clutches of Herr Wegener, her husband, who is a ruthless criminal boss in deep with the shadowy Consortium. On the winter roads, she crashes her car in the mountains of the South Tyrol. The snow covers her tracks and she's taken in by Simon Keller, a self-contained man, almost hermit-like, living a simple life in his mountain hut. It sets up a tense, violent clash and with fairytale folklore stitched in, D'Andrea offers plenty of twists and an original thriller. You can read the full review here.
Buy now on Amazon
2 – The Border by Don Winslow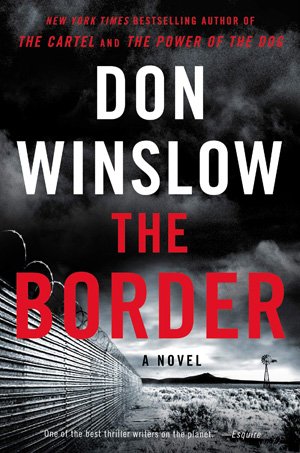 If crime fiction had the equivalent of epic fantasy then Don Winslow is positively Tolkien-esque in stature. He has taken the war on drugs and woven it into a tale that just keeps giving. Ever since we met DEA agent Art Keller in 2005 in The Power of the Dog then again in The Cartel. The Border continues the author's fictionalisation of the war on drugs to devastating effect. The series has been appallingly violent, morally ambiguous and completely compelling. It might be fiction but Winslow has documented the real barbarism involved. It demands to be read. You can read the full review here.
Buy now on Amazon
1 – Nothing Important Happened Today by Will Carver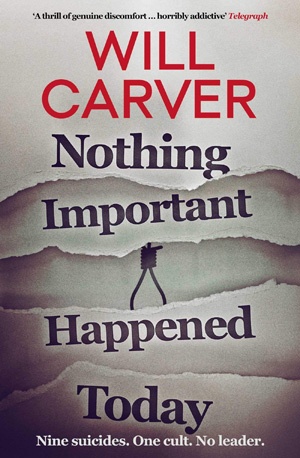 This is easily my book of the year, just for its sheer startling originality. It shouldn't work, but it is compulsively readable. There's barely a main character, though we are re-introduced to Detective Inspector Pace from Good Samaritans. It's like a Black Mirror version of crime fiction with a suicide cult, The People of Choice, taking hold of individuals with each of them telling their tale. It's verging on dystopian with cutting social comment spliced in. It doesn't follow the usual patterns and tropes of crime fiction. It is bleak and moving, but there's enough black humour to bring us through. It's unusual, it is original, and it is a brilliant read. Read the full review.
Buy now on Amazon
Find out what my colleagues on Crime Fiction Lover chose as their top five books of 2019 here.