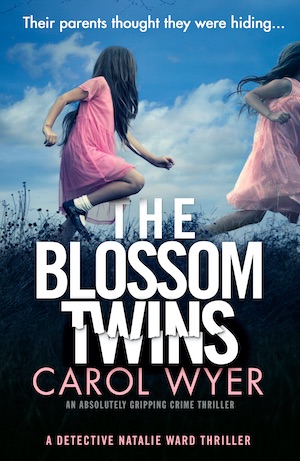 Written by Carol Wyer — What appeals to you about a crime fiction series? For me, it's witnessing the gradual development of the characters featured in it. Here's a case in point – five books in, and we're really starting to get to know DI Natalie Ward and her patch in Staffordshire.
The same can be said of her team, DS Lucy Carmichael, PC Ian Jarvis and DS Murray Anderson – although, in The Blossom Twins, Murray is away on holiday in Australia. He's sorely missed too as we're thrown into a nasty case right from the off.
Fourteen-year-old Isabella Sharpe and her sister Kerry, 17, are at a free open air concert by top band Blasted when Kerry goes off to get drinks, telling her younger sister to stay put and save their prime vantage point. But when Kerry returns, Isabella is gone. A few hours later her body is found in the kitchen garden of Sunmore Hall, the stately home where the concert was held.
The whole scene looks stage managed, down to the rose petals scattered over Isabella's corpse. It sends shivers down detective Natalie Ward's spine when she arrives to investigate. The tableau is scarily similar to that from a series of murders she worked on in Manchester several years ago. But the man behind the Blossom Twins murders was sent to jail and later killed himself there. So is this a copycat, or was the wrong man convicted back then?
It doesn't take long before the reader knows the answer to that question, as we are treated to the innermost thoughts of the man who killed Isabella – and who is destined to strike again and again. These are chilling, disturbing interludes that neatly put the brakes on as the investigation begins to gather pace.
The meticulously rendered police procedural aspect is also interwoven with the dramas of Ward's personal life. She is about to leave her husband and move into a flat, and the prospect of telling her teenage children that their mum and dad are separating looms over her at every end and turn – so much so, that after a while you feel like shouting for her to just get on with it. Ward also has a burgeoning relationship with Mike Sullivan from forensics to consider, and again this is moving at snail's pace, somewhat to the detriment of the main narrative line.
But what a line that is! The murder scenes in this book are so poignant that you'll be wiping a stray tear from the eye. Considering all the young girls that have come to grief in Ward's neck of the woods over the past few books, you'd expect parents to be a little more vigilant. That's sadly not the case, and the hows and whys of this particular killer's modus operandi are cleverly conceived and totally believable.
There's so much to applaud in The Blossom Twins. Wyer is a writer in complete control of the world she has created and fans of the series will fall back into it like a comfortable pair of slippers. However, there is something familiar about parts of the story line and that lingering feeling of deja vu threatens to take the edge off the drama when something earth shattering happens. It should really knock you back on your heels, but for me, still puzzling about what I'd read earlier, the heart stopping twist took some time to actually connect emotionally.
That said, there just HAS to be more from Natalie Ward and her crew. No author in their right mind could leave us on such a cliffhanging finale – so come on, Carol Wyer, when can we expect book number six?
Read our review here of The Birthday, first in the Natalie Ward series. Police procedural fans will enjoy our selection of five of the best in the genre.
Bookouture
Print/Kindle/iBook
£1.99
CFL Rating: 3 Stars