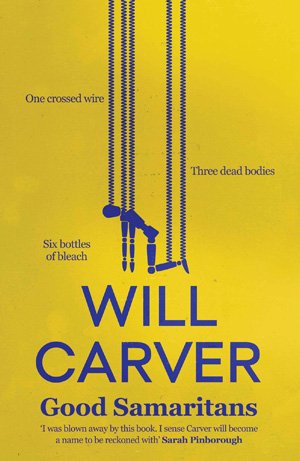 Written by Will Carver — Will Carver, where have you been hiding? You dazzled, beguiled and entrapped us with books like Girl 4, The Two and Dead Set. Your detective January David was going places, we thought, despite everything you put him through. Then, in 2013, he disappeared. You disappeared. Well, it's good to have you back.
In Good Samaritans we meet Hadley, Ant, Seth and Maeve, four main characters, each caught up in the ennui of suburban living and each with their own particular obsession. For example, the pretty young woman Hadley Serf has self-esteem that is so low she's obsessed with trying to kill herself. She's attempted suicide many times, using different methods but it seems she's so bad at it that she never quite gets there. Or perhaps she doesn't really want to.
It's no wonder that Hadley needs to call the Samaritans, the charity with day and night helplines and staff trained to provide help by listening. This is where Ant works – Ant who is troubled by the fact that earlier in life he could have helped save somebody but failed. Now he is literally obsessed with saving others.
Seth is in sales, as well as a stale marriage. He hates his boss, is indifferent to his wife and has become an insomniac. Every night, when Maeve has drained her glass and passed out on the sofa, or stumbled upstairs to bed, Seth pulls out a book full of phone numbers and starts calling people randomly, trying to connect. With someone. With anyone. Maeve – her obsession is a little simpler to understand. She's obsessed with Seth, she wants to pull him back to her and she'll do anything to achieve it.
One night, when Seth is making his calls, he dials Hadley's number. At that exact moment, she has picked up the phone to dial the Samaritans, but instead she's got Seth on the end of the line. They connect. But the next time she calls the charity and asks for Seth, what she gets is Ant. Maybe Hadley is someone who he can save?
This set-up takes nearly half the book, which is kept going with a warts and all look at each of Carver's four principal characters – including full-on detail of their sex lives. With each day that passes, we learn a little more about them, but not everything. Plenty is held back. Once their paths begin to cross, you know enough to surmise that something awful is set to happen…
Meanwhile, on the edge of it all, Detective Inspector Pace of the Metropolitan Police is investigating two murders. Both victims were beaten and strangled, then soaked in bleach before having all their orifices scraped. Though they were from the London area, each was neatly wrapped in plastic sheeting and dumped in a field in Warwickshire. Pace lurks around the book like a dark force – it's almost as though he's from another dimension. Maybe that's how the police seem to people these days?
It's no spoiler to say that there's a murder halfway through the novel and that's when things get really interesting. Then, three quarters of the way in, Good Samaritans gets even better. You'll be guessing all the way along, and you will start imagining all the scenarios that Will Carver wants you to imagine, and more. It's like a mystery Mexican standoff is brewing between the main characters and you'll have all sorts of suspicions about who's really pulling the strings, and about who will live and who will die.
There's not a lot to like or sympathise with about most of the characters and a lot of readers probably won't like the sex and violence here. It goes to the edge. But, because we know how oddly detached and obsessed each character is, what they get up to feels strangely real. Clever, frisky, grubby, devious and sometimes surreal – this is how contemporary noir should be. Will Carver, where have you been?
If you like the sound of Will Carver's work, also try something by South African writer Roger Smith.
Orenda Books
Print/Kindle/iBook
£0.99
CFL Rating: 5 Stars