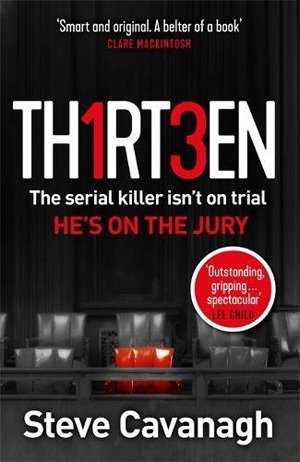 Written by Steve Cavanagh — The courtroom drama market seems to have been cornered for many years by John Grisham, with a little Michael Connelly and his creation Mickey Haller on the side. Look out folks, because with Thirteen Steve Cavanagh, and his con artist turned lawyer Eddie Flynn, are making a serious bid for the top spot in legal thrillers.
Thirteen is Cavanagh's fourth Eddie Flynn novel but fear not if you haven't made his acquaintance before. Flynn's backstory is subtly inserted into the narrative – so subtly that you hardly realise you're being drip-fed. Which is a relief – because a huge info drop would slow down the pace of this fast and furious work of fiction. Thirteen is a book where you want to crack on, no matter what time the clock is showing.
The story opens as down-and-out Joshua Kane panhandles for spare change outside the Criminal Courts Building in Manhattan, New York. His mind is on death, and he fantasises about killing the passers-by who ignore his pleas for quarters. Apart from those morbid thoughts he seems harmless enough. But soon we see another side to Kane and in a flash a mailman is dead and his cargo of mailbags from the court building has been tampered with. It's the first step in a plan that Kane has been formulating for quite some time…
Six weeks later, Eddie Flynn is in the same building, plying his trade in a two-bit case involving an ex hooker caught in possession of drugs and drugs paraphernalia. Eddie likes to tweak the rules a little and the fact that the court is waiting for a tardy witness, an NYPD detective by the name of Mike Granger, is all down to Eddie's handiwork.
He manages to get the case dismissed – and it's then he notices someone who looks decidedly out of place in the small courtroom. It's Rudy Carp, a big-shot lawyer who is about to take on the biggest trial of the year. Movie star Robert Solomon is charged with the murders of his actress wife Ariella Bloom and their chief of security Carl Tozer and the prosecution is convinced they have a cast-iron case – but Carp says Bobby is innocent and the police set him up. Most important of all, he wants Eddie to join the defence team.
Is the former hustler about to hit the big time at last? Eddie is torn, but the thought of a steady job in a well established firm tips the tables and he's in. Trouble is, the deeper he probes into the case, the more Eddie is convinced that Carp is right and Bobby didn't do it. But if the film star isn't the murderer, then who is?
Eddie's progress is charted alongside that of the shady killer I mentioned earlier, and as the contents of those mailbags are delivered far and wide, Joshua Kane's quest becomes clearer. One bag contained jury summonses for the Solomon trial, and by hook or by crook, Kane is determined to be one of the chosen 12 good men and true.
How he goes about it is a revelation, and quite possibly one of the most imaginative plot lines I've come across. Steve Cavanagh's imagination must have done somersaults to come up with some of the jaw-droppingly devious, though entirely plausible, things that happen in the course of this excellent novel. Eddie Flynn is a multi-faceted, hugely likeable central character, while Kane is also finely rendered. He's evil, but with no hint of the pantomime villain that he could have become in the hands of a less skilled writer. British author Cavanagh is also right at home in an American environment and he deserves top marks for creating dialogue and settings which have an authentic ring to them.
This book is like velcro – it gets its hooks into you and won't let go and there's a sense of loss when the final page has been turned and real life floods in again. We've previously reviewed The Liar and The Plea on this site, both of which received five-star reviews. Looks like Steve Cavanagh's on for a well-deserved hat-trick.
Read our interview with Steve Cavanagh here, and if your appetite has been whetted for legal thrillers, try Neil White's From the Shadows, first in a new series.
Orion Books
Print/Kindle/iBook
£3.99
CFL Rating: 5 Stars