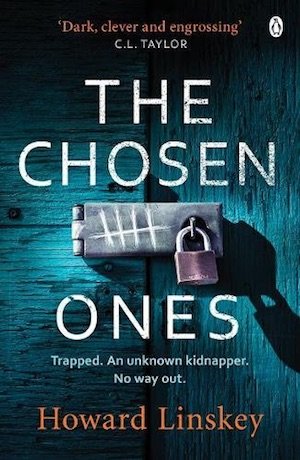 Written by Howard Linskey — A few weeks ago, Carol Wyer's serial killer mystery The Chosen Ones came out, and now it's Northeast author Howard Linskey's turn to use the title as his team including DS Ian Bradshaw and freelance reporters Tom Carney and Helen Norton return in their fourth police procedural investigation. This time women are going missing and it's a race against time to find the perpetrator.
It gets started in 1997. Eva Dunbar wakes up groggy after a night out in Durham, but she's not in her own bed, nor anywhere comfortable for that matter. She's been locked inside a large metal box with no windows and just a bed. She screams, but nobody can hear her.
In the city, DS Bradshaw is called to a meeting with his boss. Five women have gone missing now and they're being referred to as The Disappeared. There's no connection between the victims – they didn't know each other, and are of varying ages and appearances. The police are out of ideas and, worse, part of the team has been placed on suspension after a newspaper sting revealed corruption in the ranks. As usual the tricky cases end up on Bradshaw's desk.
He can't work on this alone and with the staff shortages due to the corruption scandal he needs to try something different. HIs bosses agree to bring in investigative journalists Tom Carney and Helen Norton once more.
Eva Dunbar begins to explore where she's being held. It seems to be some sort of shipping container. She thinks she can escape and makes her attempt in between visits by her captor. It turns out to be a mistake and she's caught, then taken at gunpoint to an underground bunker built during the Cold War. She ends up in a cell she won't escape from, and starts to realise she's not the only person being held captive.
As soon as Carney and Norton are engaged on the case, a body turns up. She's found in the woods and has been strangled. The post mortem establishes that her organs were failing due to alcohol abuse. Then the identification comes in. She's not one of the five women who recently went missing. In fact, this victim disappeared 15 years ago. It turns out that the current case mirrors one from the past – five women went missing, all with very different traits and not connected in any way.
The trio begin to dig through the old files, hoping to find some information from the past which will guide them now. They learn one of the previously abducted women turned up soon after being taken, but was in an incoherent state and managed to get herself run over. She died soon after, but not before stating she'd been held underground. The post mortem showed damage to her organs. Because she was deemed a heavy drinker, her situation was never taken seriously and the original case was never cleared up. The police presumed the perpetrator had died, been arrested or moved on. It seems they were wrong.
When a sixth woman ends up in hospital, claiming to have escaped after being kidnapped by a fake taxi driver, the trio know they are in a race against time to find the others before it is too late…
The premise for the Chosen Ones – a secret bunker – makes for a really interesting angle. According to the author his idea was based upon a real situation he read about in a newspaper. The book skips along at speed, gradually increasing to a hectic pace in the last 50 pages or so. The narrative is smooth and really well written. In particular, Linskey captures the feel of the 1990s really well. The detecting is done the old fashioned way, with legwork, and there's a dash of internal politics because one of the top brass was involved in the previous investigations. There are switches to the perpetrator's perspective, gradually revealing the motivation. The ending is satisfying, if a little rushed, and there is a bit of repetition here and there.
The relationship between the three main players remains strong, and is also unusual – typically you will have a duo in a procedural series. The will-they-won't-they between the journalists Tom and Helen continues. Interestingly, there's very little personal detail shared on Bradshaw, all is focused on the odd couple reporters.
We've previously reviewed The Search, Behind Dead Eyes and No Name Lane – all from the Bradshaw series.
Penguin
Print/Kindle/ibook
£4.99
CFL Rating: 4 Stars