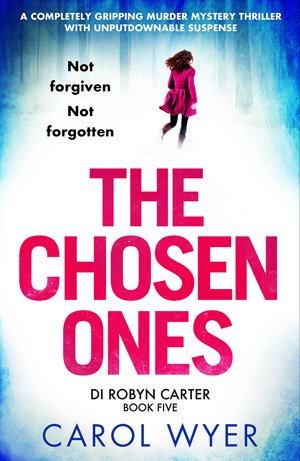 Written by Carol Wyer — Can it really only be a year since we first met Carol Wyer and DI Robyn Carter? We're now five books into the series and Carter is about to face her most confounding case yet.
The body of a young man is found tied to a post in a farmer's field, his pose aping that of the scarecrow the used to occupy the spot. But any resemblance to Worzel Gummidge soon dissipates with a closer look – there is a belt tied around his neck, fastening him in place, and his guts are hanging out through a gaping wound to his stomach.
The victim is soon identified as Jordan Kilby, son of prominent local businessman Nathaniel Jones-Kilby. While Jordan was a young man who lived a quiet life, his father is a man who has made plenty of enemies through building new estates on former green belt land and his support for the proposed High Speed 2 railway plan, which will cut right through the Staffordshire countryside. Jordan had a spiky relationship with his father too, but the dead man clearly loved Rebecca, the young woman he was living with, and doted on her son Dylan.
As someone who lost her own true love a couple of years ago, Carter can identify with Rebecca's grief and she resolves to do everything she can to catch Jordan's killer. But as the murder tally starts to build up, each crime scene more twisted than the last, Carter and her team are under huge pressure to bring the perpetrator to justice. Trouble is, there is no identifiable MO, and there seems little to connect the victims. Staffordshire's finest are stumped – is the killer targeting people at will, or is there some hidden agenda that no one can fathom out?
With little or no discernible progress, and little help from her boss, DCI Flint, Carter knows she is on a deadline to bring results or the case will be handed over to DI Tom Shearer. The relationship between these two has ebbed and flowed throughout the series – will Carter finally put the ghost of her former partner, Davies, to rest and give Shearer a chance? You'll have to read the book, because I'm saying nothing!
Talking of Davies, the last book The Silent Children ended on something of a cliffhanger when Carter was sent a photo of her dead lover, ostensibly showing him alive and well. That plot strand moves along somewhat in The Chosen Ones, with little snippets of information dotted around throughout, tempting you into all manner of speculation, culminating in some kind of revelation. So expect some news on this front, although after all the build up over several books, I found this part of the story somewhat sketchily rendered and rushed.
Where Wyer truly excels is in portraying the procedural heart of an investigation, its excitements, disappointments, frustrations and false starts. Carter and her team are well established now and fans of the series will be delighted to follow their progress, both at work and out of it. They're a lively, hugely believable bunch with a neat line in banter and it's a joy to follow them as they progress through the case.
As The Chosen Ones ends, we're rewarded with the scintillating news that Wyer is about to begin a new seres featuring DI Natalie Ward. Does that spell the end for Robyn Carter? I guess we'll have to just wait and see…
For more serial killers in Britain's hinterland try The Killer on the Wall by Emma Kavanagh. Or, for death in a more urban setting there's Alex Marwood's The Killer Next Door.
Bookouture
Print/Kindle/iBook
£1.99
CFL Rating: 3 Stars