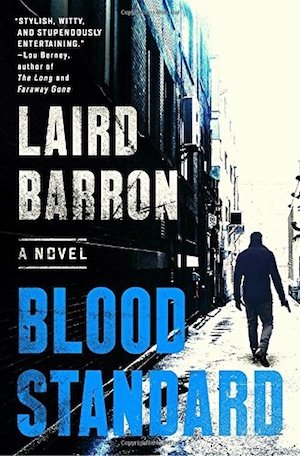 Alaskan ex-patriate Laird Barron now lives in New York State, where this debut crime novel is set. Barron, by the way, is no ingénue; Blood Standard may be his first straight-up crime effort, but the hardboiled school of writing has been an obvious influence on the multiple award-winning horror writing he has been pursuing for more than a decade. If you find yourself enjoying Blood Standard, then try any of his three short story collections, or his novel The Croning.
Much like the author, main character Isaiah Coleridge has moved from Alaska to New York State, though it is presumably only Coleridge who has done it to escape a vengeful mob boss. He's not a made man – his mixed American and Maori heritage saw to that – but he was a trusted mid-level fixer and enforcer for the Anchorage branch of the outfit. When accompanying Vitale Night on a hunting trip, he took violent exception to the slaughter of walruses. It's always a dangerous thing for a mafioso to grow a conscience and Coleridge knows Night is not the kind of man to let such an insult pass, and so he is surprised when rather than hand him over to face retribution, Coleridge's own boss Lucius Apollo chooses to cut him loose and exile him from Alaska.
And so Coleridge is sent to a horse farm in the Hudson Valley to keep his head down, which is easier said than done when you are a man-mountain with a strong reputation for violence. The arrival of such a man will inevitably send ripples through the local mob, and so it proves, but Coleridge has some time to get to know Virgil and Jade Walker, the farm's owners, and their employees before trouble knocks at his door again.
Blood Standard is the first in a proposed series of Isaiah Coleridge novels, so it is imperative that his character has some depth. Barron duly provides – Coleridge's father casts a long shadow; he is an unsentimental, perhaps even cruel, man with a naval career behind him and some pretty shady underworld contacts. Coleridge's battle to divest himself of his father's influence looks set to be a long term focus. Barron has given Coleridge an interesting duality; he is fearless and violent on one hand, but thoughtful and melancholy on the other.
The events leading to Coleridge's involuntary exile in New York are relayed at a fair clip, but the pace dips through the middle stages of the novel as Barron describes life on the farm, introduces new characters, and gets his pieces in place for the mystery. Reba, the Walker's adolescent granddaughter goes missing, and the troubled teen was seen in the company of two wannabee gangsters and pot dealers. Coleridge's investigation, undertaken with farmhand Lionel Robard – a veteran with his own demons – propels the novel forward once more, and roots it with more certainty in mainstream crime fiction.
The novel gets a little confusing at times. Blood Standard is written in the first person, with Coleridge as narrator, but he withholds many of his thoughts regarding the investigation. Events often have a dramatic revelatory flavour, but you're often unsure why he is pursuing certain leads. This isn't helped by an unnecessarily large cast; the status and loyalties of many of the outfit gangsters are difficult to keep on top of.
While Blood Standard has some flaws, Coleridge is an intriguing character and the location is well rendered. It's also a book full of rural and urban New York State atmosphere. An effective piece of mainstream thriller writing.
In John Straley's Cold Storage, Alaska, a connected criminal heads in the other direction – back to Alaska. Try it.
GP Putnam's Sons
Print/Kindle/iBook
£10.99
CFL Rating: 4 Stars