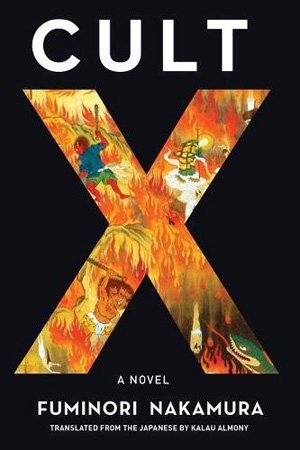 Translated by Kalau Almony — Cult X is an ambitious novel, one that pushes boundaries and redefines what crime fiction can be. At 512 pages, it's also the size of a house brick, with a huge amount of information crammed into the beautiful hardcover pages. There's an illustrated X embossed the front cover – a lovely touch.
It's a tough work to define, and at times it's an even tougher work to get through. Moments of philosophy and religion are interspersed with hardcore sex scenes, where consent is dubious at best. But in between it all, between all the prostitution and astrophysics, the competing cults and mysterious deaths, there's an epic novel that asks big questions about the modern world, and what pulls people into extremism.
In the opening chapter, Toru Narazaki is left despondent by the sudden disappearance of his girlfriend, Ryoko Tachibana. All he has is a previous address, in a block of flats apparently belonging to a radical Buddhist cult. After hiring a private detective to track Ryoko down, Toru is advised to back off, for his own good, but refuses. Toru will do anything to discover what happened to Ryoko, even allow himself to be brainwashed by what on the surface appears to be a dangerous cult.
What Toru finds instead is a cult led by an ailing man, the slightly charismatic leader Shotaro Matsuo, whose lectures are long, rambling treatises on astrophysics, human consciousness, the history of religion, and war. Matsuo-san's videotaped lectures are at first comical to Toru, but he continues to watch, becoming more and more engrossed. On this small television screen Toru sees the Believers start their uprising, their sense of being alienated from society finally boiling over. The movement is reminiscent of the cult Aum Shinrikyo, and the 1995 sarin gas attack on the Tokyo Metro carried out by several of its members.
The pull of extremism makes for fascinating, although often uncomfortable reading, and it's no spoiler to say that things don't really work out in the end. With a novel of this size and complexity (possibly the only novel on crimefictionlover.com with a bibliography, although unfortunately all in Japanese) a summary like this can barely even scratch the surface. Like with Last Winter We Parted, the last Nakamura novel we reviewed, there is the sense that the scope of Cult X is just too vast and complicated, and ends up obscuring the most interesting parts of a relatively straightforward story. Matsuo-san's lectures will have moments in them that everyone will find frustrating, while others are funny or enlightening. Take up altogether too much of the book, and the action doesn't really start until about page 300. There are moments you may feel like giving up, but push through, it's a slow burn that really picks up about half way through, and flares up dangerously and violently towards the end.
Fuminori Nakamura is not a conventional crime fiction author in any sense of the word. He delves into the darkness that exists in everyday people in a way that's on a par with the best in psychological crime fiction, but there's never a single crime that offers up a single solution. In Cult X the disappearance of Ryoko Tachibana is the mystery that opens the book and propels the plot, but it is certainly not the biggest crime to occur. Nakamura takes his inspiration and runs with it, taking crime fiction in directions you'd never imagine, directions few other authors would dare take it. This makes for an uncomfortable, even off-putting read, but one that you'll still want to push right through with to the end.
For something different from the world of Japanese crime fiction, why not try Six Four. Or, this primer is a good place to start in Japanese crime fiction.
Soho Press
Print/Kindle/iBooks
£8.99
CFL Rating: 3 Stars