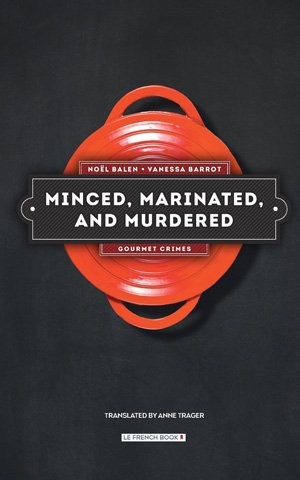 Written by Vanessa Barrot and Noël Balen, translated by Anne Trager — France and fine cuisine go hand in hand, and who better to introduce us to its delights than Noël Balen, co-author of the Winemaker Detective series? You can read how Noël and his wife teamed up to write on this new series in our interview here. Five books have already been successfully published in France and this is the first one to be translated into English, taking the passion for regional French cuisine – and murder – another high.
The first stop on this culinary trip is Lyon. Tourists will have much to discover in the third largest French city, renowned for its beautiful architecture, museums, quirky neighbourhoods, annual crime festival Quais du Polar, as well as being the birthplace of the Guignol puppet theatre. But it's the culinary heritage of this town that is a the centre of the book, of course. The legendary chef Paul Bocuse, who just recently passed away, was based in Lyon and he is mentioned quite a bit here, as are the humble but incredibly competitive and lucrative bouchons. These small restaurants offer home-made style based around fresh local produce, and change their menus daily.
Laure Grenadier is the editor-in-chief of a food magazine in Paris, which instantly puts her in a very powerful position in such a food-obsessed country. Her sidekick Paco Alvarez is a freelance photographer. They travel together to Lyon on an assignment to do a feature on the Lyonnais bouchons, but once they arrive in the city they find out about the brutal murder of one of the leading lights of the local restaurant scene. When a second chef is killed the following day, Laure starts using all her connections to find out more about the case. She also contacts an old flame, the journalist Jean-Philippe Rameau, who is following the police closely on this investigation. Why would a serial killer target the bouchon owners of Lyon, merely for the small amount of money left in the cash register at the end of the day? And why choose such a horrible death through asphyxiation in a plastic bag? Could it be simple professional rivalry? Who is going to be next? And who was the outsider trying to buy out the bouchons a few years back?
Between their unofficial detecting work and some impromptu sight-seeing, Paco and Laure are treated to many mouth watering meals and a short history of food in the region, from Bresse chicken to tripe sausage, boar paté to silkmakers' brains (a type of cheese). There is even a mention of the local football team Olympique Lyonnaise. This is vicarious tourism at its most persuasive and will make you want to jump onto the first plane to Lyon.
As revealed in our interview, Laure and Paco will be embroiled in further adventures and amateur detection in other regions of France, which is enough to please any local tourist office and get them to vie amongst themselves for attention. Does it work as a mystery, however? Well, the solution to this serial killer mystery is a bit of a stretch and I didn't feel the motivations of the killer were persuasive enough. The only two well rounded characters are the main protagonists: they seem promising and a bit different to the clichés of crime fiction we are often treated to in the English speaking countries. Laure is the suave, confident, divorcee with a teenage daughter, very much the boss, while Paco is younger, less experienced and originally from Spain, so less knowledgeable about French traditions and food. He seems to have a bit of a thing for Laure, but there is the added complication of the attractive journalist.
All in all, a delicious concoction for those who like escapism, to be whisked off to a fascinating new setting with their crime fiction. It exudes joie de vivre in spite of all the sorrow and death. As one of the characters observes: 'When you feel as much hunger as grief, then you're alive.'
If you like the sound of this, also try Martin Walker's The Resistance Man, part of the Bruno Chief of Police Series set in France around World War II.
Le French Book
Print/Kindle
£3.69
CFL Rating: 4 Stars