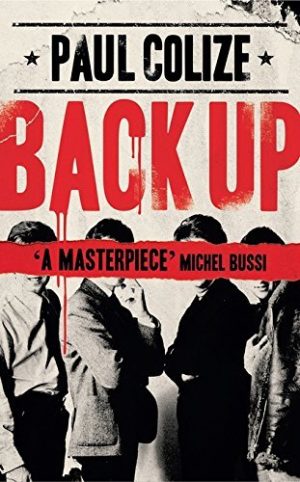 Written by Paul Colize, translated by Louise Rogers Lalaurie — This crime thriller by Belgian writer Paul Colize about a British rock band was short-listed for a number of prizes when first released. Although it is only now available in English, the book should find a natural home and receptive audience among rock fans everywhere.
It's 1967. The rock band Pearl Harbor is taking a break after a hastily organised, late night Berlin recording session, and its four members have scattered. Within days, each of them is dead. One at the bottom of a pool in a luxury hotel in Palma de Mallorca, one with a bullet in his head in a hotel room in Hamburg, one crushed under a train in a Berlin U-Bahn station, and one who was apparently hiding out in a London hotel and jumped from his fifth floor room.
Who could believe that all these deaths were coincidental? The authorities, with their scattered jurisdictions and the differing modes of death believe it, especially when the bodies – and the victims' histories – reveal alarmingly high levels of drug and alcohol abuse. The band members become no more than rock n roll detritus, washed up by the tide of 1960s counterculture. It's a bang-up start to this well-constructed mystery.
Fast forward to 2010. In Brussels, a homeless man is hit by a car near the Gare du Midi train station. He's badly injured, cannot speak, cannot be identified, and comes to be known as X Midi. You are privileged to read his thoughts, however, as he recuperates from the accident. He reconstructs his past and his fleeting but deadly association with Pearl Harbor in chapters that alternate with those of his caretakers. They are trying with infinite patience to help him recover from locked-in syndrome, a condition that leaves him almost totally incapable of communicating or responding.
X Midi's thoughts are presented in italic, which can be bothersome. The entire chapters of italic type, even though short, aren't so easy to read. However, the momentum of the story soon takes hold, and this typographical quirk serves as a constant reminder of how cut off X Midi is from everyone around him.
There's a lot of drug and alcohol use, consistent with the era, and while that can be rather boring to read about, in this case, it is part of the immersive environment Colize creates and manages not to become tedious. The characters also engage in lots of music-making, which is filled with energy and considerable joy. Berlin's rock scene takes place in bars and nightclubs, and the bartenders and denizens are portrayed convincingly. When X Midi travels to England to live free in the home of a wealthy orphan, along with numerous other youths semi-detached from society, the chaos of that living arrangement is well described too.
Nevertheless, you may be grateful when X Midi's narrative emerges from his substance-abusing days to confront the deeper and more sinister evil dogging him. X Midi, whose real name is eventually discovered to be Jacques Bernier, only gradually comes to understand the true significance of Pear Harbor's fateful and final recording session, in which he served as the substitute drummer. The back up.
Over the years, what happened to Pearl Harbor has not been totally disregarded. At first, the parents of one of the musicians hired a detective who uncovered suspicious circumstances, but they couldn't afford his continued work. They were disappointed that the other parents were unwilling to help subsidise the investigation. They preferred the verdict of suicide to learning their sons had been involved in something more terrible. As a fallback, the parents approached the news media, and finally found a reporter from the Belfast Telegraph intrigued by the story. He too amassed tantalising clues, but was never able to arrive at a definite conclusion. Over 40 years, so much is gone. Memories have faded, people have died.
Still, someone besides Bernier remembers that last recording session and knows its significance, and it may be there are more deaths to come. The difficulty of assembling this puzzle from the scatterings of a chaotic era only adds to the satisfaction when pieces click into place.
For another mystery where music is central try The Strings of Murder, set in Victorian Edinburgh. Around the same time as the story in Back Up is set up, in the 1960s, crime author Peter May himself ran away to London to join a rock n roll band.
Point Blank
Print/Kindle/iBook
£4.79
CFL Rating: 5 Stars