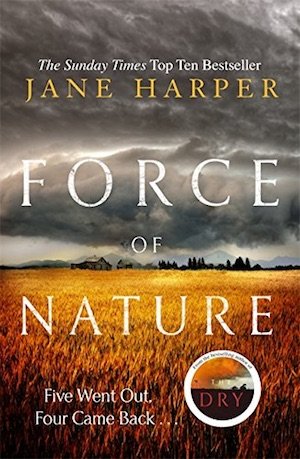 Written by Jane Harper — Her debut novel, The Dry, has astounded readers around the world, winning both the CWA Gold Dagger and the Ned Kelly First Novel Award. But what if Jane Harper's first book is still lurking in your to be read pile, as it is in mine? Is it worth jumping straight in with her latest, Force of Nature?
The answer to that is yes! Although this is the second book to feature Aaron Falk, newbies will not find themselves at too much of a disadvantage by saving The Dry for later. Falk is a financial crimes investigator for the Australian Federal Police. So why are he and his partner Carmen Cooper in the fictional Giralang Ranges, a rough and rugged, heavily forested region east of Melbourne?
Two words – Alice Russell. She's missing… and she's the whistleblower in a case which is currently occupying Falk and Cooper's every waking hour. Alice was on a team-building exercise with four of her female colleagues from Bailey/Tennants accountancy firm when the group got into difficulties, lost their way and holed up for the night in a ramshackle shack. When dawn broke, Alice was gone, along with her rucksack and the only mobile phone the group possessed.
She was about to deliver the final, damning evidence to Falk and Cooper and they are desperate to find it, and her, but the area is densely wooded and inhospitable. It is like looking for a needle in a haystack, even for experienced officers with local knowledge. Two city folk would be more of a hindrance than a help with the search, so they turn their attentions to the other four women who were with Alice, and to the group of men from the same company who were also on the team-building weekend. It soon becomes clear that Aaron and Carmen have plenty to keep them busy!
The four people who saw Alice last each have a story to tell. But Carmen and Aaron get the distinct impression that they're holding back. Harper cleverly drip-feeds the truth to you and by this point you'll be hanging on her every word. Like the investigating officers, we get the airbrushed versions first, but when the truth is finally revealed it is shocking and brutal.
Love, loyalty and justice are recurring themes in a book which will keep you enthralled. I particularly loved reading about the wild, untrodden Giralang region, and following the shifting dynamics of a group of office-bound women forced to fend for themselves, alone in the unknown. There's more than a smattering of Lord of the Flies here!
Falk and Cooper are finding their feet as a team, but they work together well and their burgeoning partnership bodes well for further books. Falk is the main character though, and in Force of Nature we learn more about him, his past and his motivations. He's a work in progress, getting over a tricky past,  and as the pages flew by I got to like him more and more.
Recent releases have demonstrated that it isn't a good idea for women to take off on their own in crime fiction land (prime examples from last year are Ruth Ware's The Lying Game, The River at Night by Eric Ferencik and Sue Fortin's The Birthday Girl) but just think of the thrills and thrillers we'd miss out on if everyone did as they were told! I'm now preparing to excavate the to be read pile and put The Dry nearer the top – I've got to know more about Aaron Falk and discover the history behind his burns. Force of Nature is available now in eBook formats, with the hardback due in early February. Does anyone know when book three is out?
Little, Brown
Kindle
£6.99
CFL Rating: 4 Stars