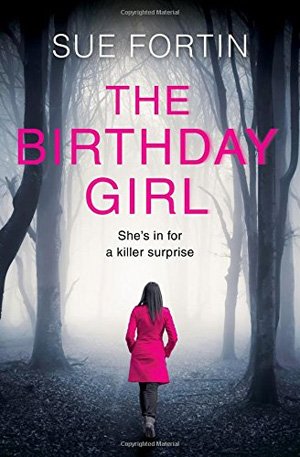 Written by Sue Fortin — If my Facebook feed is to be believed, a girls' weekend away comprises pampering, party games and plentiful Prosecco. After reading this book, you may think twice before accepting your next invitation…
Carys has a birthday approaching, as does her friend Joanne, and it is Joanne who plans a surprise for them and their two closest friends, Andrea and Zoe. The invite is very last-minute, but Carys throws caution to the wind and agrees to play along. She's been through a tough couple of years and has a teenage son who is causing her major grief. A weekend away is just what she needs.
So it is that the following day she, Andrea and Zoe are up early to meet at the appointed time and place… only to be greeted by a black SUV with tinted windows, a taciturn driver, but no Joanne. It's the first strange occurrence in a weekend that is jam-packed full of them. The threesome are told to hand over their phones, ask no questions and to open a bottle of bubbly as they are taken to who knows where. Next comes a flight in a private aircraft, then a drive in the back of a transit van, ending up at a little cottage in the middle of Scottish nowhere.
Joanne has yet to make an appearance, but when she finally does, it is with a flourish, to reveal that she has a weekend of surprises in store. Ever the diplomat, Zoe is full of enthusiasm for the plan, but Carys and Andrea are more cautious. They both sense a strange undercurrent and they're not happy at being cut off from the world, being forced to 'enjoying themselves' Joanne's way. It's the first sign that all is not well in this friendship.
The deeper into this story you get, the more is revealed. Carys is a widow since the suicide by hanging of her husband Darren. She and her son Alfie found him dead, and it's clear he blames his mother for the death and prefers to spend time with Joanne and her teenage daughter Ruby. Andrea runs a successful gym, but Joanne maintains that she was cheated out of a half share of the business. Two down – what gripe does she have about the ever-enthusiastic Zoe, the newest member of the group?
Joanne comes across as overbearing and controlling and it's a wonder anyone ever became her friend. She's like a jolly Scout leader who's turned to the dark side, forcing her buddies to play silly guessing games and then taking them on a long walk to a beauty spot where she promptly abandons them, forcing the trio to abseil down a cliff and kayak back to base. By this stage I'd have been telling my 'friend' where to get off, but amazingly Carys, Andrea and Zoe keep on coming back for more. Until something dramatic happens which puts things in a whole new light…
The trials and tribulations of our trio are interspersed with shady italicised passages from a faceless source. Someone out there has an axe to grind, but who is the target, and, more importantly who is the ill-wisher? I'd guessed most of it from a very early stage, but kept on going in the hope that Joanne would get her comeuppance. Does she? You'll have to read the book to find out.
Author Sue Fortin handles the complex friendships of an older group of women well and I enjoyed the ebb and flow of emotions she brought to the narrative. The settings are bleakly beautiful and realistically rendered, but overall the premise of this novel is a little hard to believe. A book not to be taken too seriously, but one which will help to while away an evening or two with some tension and excitement.
For more crime fiction in which things go wrong for groups of celebrating women, try The River at Night by Erica Ferencik or In a Dark, Dark Wood by Ruth Ware.
HarperImpulse
Print/Kindle/iBook
£0.99
CFL Rating: 3 Stars