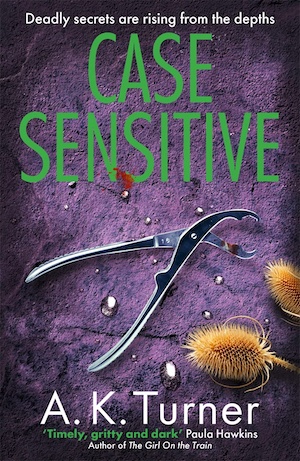 A mysterious knocking on the side of a canal boat provides the opening gambit in Case Sensitive, the latest book from AK Turner. A bit of flotsam? A disgruntled swan perhaps? Nope, the culprit is a body – and when the person woken by the intrusion is mortuary technician Cassie Raven, you begin to wonder if the dead man in question really did rap his knuckles on the hull.
Fans of this series are already well acquainted with the decidedly unusual traits of its central character. Cassie, tattooed and festooned with body piercings, talks to her 'guests' as she turns her attention to them in the London mortuary where she works – and sometimes they talk back to her.
Or at least, they used to. Lately, the dead have been decidedly silent, much to Cassie's disappointment and dismay. It appears she's lost her touch and as this book opens she is seriously considering leaving the mortuary for good. Which would be a pity, because there aren't many people who are prepared to fight the dead's corner.
The mysterious floating man comes to the attention of DS Phyllida Flyte, who is trying to fit into a new team, and failing. It doesn't help that some of her fellow officers seem entrenched in the prejudices of old, prone to make off-colour remarks and suddenly go silent when Flyte enters the room. She is trying her best, but as a woman of principles Phyllida is fighting an uphill battle.
Currently, Camden's Major Crimes Unit is on the trail of a serial offender dubbed the 'Hugger Mugger', whose MO is to target unsuspecting lone men and attempt to strangle them. So Flyte is surprised when her boss asks her to take time away from the case and check out the unidentified 'floater' pulled out of the canal. Ah well, at least it gets her out of the office… and she might bump into Cassie Raven again.
The will they/won't they relationship between Flyte and Raven has been a constant in this series. The women are like chalk and cheese, but still… something is drawing them closer. Of course it isn't a simple relationship – Flyte is mourning the loss of her still-born baby girl, Poppy, while Cassie is slowly working on rebuilding a relationship with the father she thought was dead. The scenes when these two main characters are brought together are among the best in the book.
Putting their personal feelings aside, it is fun to see the two women tackling issues and conundrums from polar opposite angles. Flyte is definitely a by-the-book kinda gal, while Cassie? Well, rules are made to be broken, aren't they? Slowly, slowly, they're tiptoeing to middle ground – and when the lines begin to blur, that's where the fun really begins.
There are elements of good, old fashioned police procedural in play here, alongside a narrative that at times veers dangerously close to the supernatural but then returns to more solid foundations. AK Turner deftly keeps all of the balls in the air, weaving a compelling tale in the process which is anchored in a well-rounded setting and populated with a cast of realistic if quirky characters (more page time for grandmother Babcia, please).
It's hard to find a genre to neatly fit Case Sensitive. As already mentioned, there is some police procedural inside its covers, plus a touch of the other-worldly and a liberal dash of thriller for good measure. Wherever it fits in to the crime fiction milieu, there's one thing for certain – this is a hugely entertaining read. And judging by the final denouement there is more to come from this mismatched pair.
London is also the setting for Where the Devil Can't Go, written by Anya Lipska – the pen name of AK Turner – and the first in a series of books featuring Janusz Kiszka, a fixer to the capital's Polish community.
Zaffre
Print/Kindle/iBook
£3.49
CFL Rating: 4 Stars