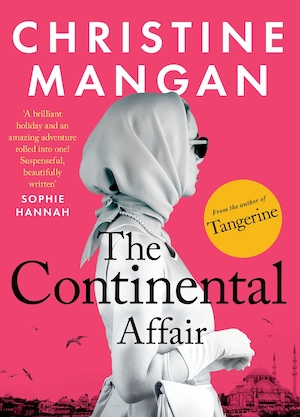 The Continental Affair tells the story of two strangers, initially adversaries, but eventually lovers, both trying to escape their pasts. It is set in the 1960s, and Algerians are rising up against their French colonial rulers.
Henri used to work for the police force. It was a job he enjoyed until it became more and more about subjugating his fellow citizens. He met breaking point after having to interrogate a childhood friend, and his conscience wouldn't let him continue further in his job. So Henri fled to Granada in Spain, taken in by his extended family – people who he doesn't really know and who don't trust him.
Henri is gradually realising that his relatives are a criminal gang, and is surprised to find how easily he has adapted to working on the other side of the law.
Doing his new job, he meets the woman he will first become obsessed with and later love. His task, as he hides in some civic gardens, is to collect a package of money that will be passed on to him. The switch goes wrong, his contact panics, and the money flutters to the ground. Before Henri can act, it is collected by a female passer-by who leaves.
Henri has time to intercept her, but doesn't, choosing to follow her instead. He can't understand his hesitation, and prefers not to interrogate his motives too closely.
The novel also tells the story of Louise, alone at home in her small English village following her father's death. She is 28 and has spent most of her life caring for her father, a WWII veteran who carried physical and mental scars from the conflict. Louise's mother left years back, unable to cope with his demands.
Now free of her burden, Louise contemplates a lonely future working to cover the family's debts. Instead, with a meagre £30, she flees to the continent, with no more of a plan than to see The Alhambra of Grenada. When visiting, she sees a woman in front of her drop a package then flee.
Finding that it is a large amount of money, she takes it and leaves, not realising her good fortune as been witnessed. Now she has the funds to extend her trip, and the books a trans-continental train to Istanbul, with stops in Paris and Belgrade en route.
The Continental Affair has an unusual structure, which at first is a little confusing, but ultimately serves the story well. Each chapter begins with the pair sharing a train carriage not far from their final destination. These scenes are followed by a flashback, told from their alternate points of view, bringing the story forward to the present.
In this fashion, the story of how they came to this point is revealed. Louise begins to suspect she is being followed by Henri, assuming correctly that he has something to do with her windfall. For his part Henri, tries to put off his family from sending another operative to recover the money, assuring them he will complete his job, but suspecting and then knowing that he won't.
The novel is a refreshing delight. Both Henri and Louise are complicated characters, and diverge from the usual archetypes found in crime fiction. Louise, especially, reveals more of herself as her story is told. I found myself more and more engaged with their fates, drawn in by their brief encounters where so much is left unsaid, and by the rich descriptions of the cities, their food and culture, that the couple visit.
Author Christine Mangan adds a sense of peril as the pair's voyage is interrupted by the inevitable arrival of a member of the gang looking to retrieve the lost money. But I would emphasise that it is Henri and Louise's story far more than it is a conventional thriller
Also see our reviews of Alan Furst's historical crime novels – Under Occupation, Midnight In Europe and A Hero In France.
Bedford Square
Print/Kindle
£6.99
CFL Rating: 5 Stars