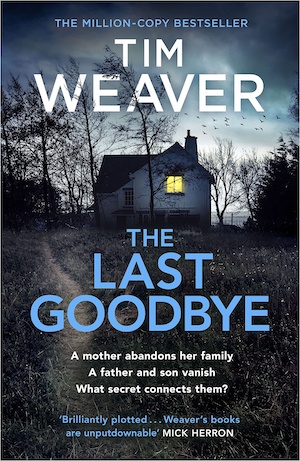 Anyone who has read The Blackbird, the previous book in Tim Weaver's series, will know that its finale left David Raker in a precarious place. As The Last Goodbye begins, the missing persons investigator is thanking his lucky stars that he is still one step ahead of the police, who hate the fact that Raker is always solving cases and showing them up and who seem determined to bring him down a peg or two and lock him up.
His mate Colm Healy isn't so lucky. Healy is in prison on remand and the jail grapevine is hot with gossip that the 'former fisherman' is actually an ex-cop. What could possibly go wrong?
The fates of the two men are inextricably linked, although they vehemently deny any previous friendship. But while Healy stews behind bars, Raker has other fish to fry, courtesy of someone else we became acquainted with in the previous book. Rebekah Murphy is a Brit now living in New York – where the pair first met. She is in the UK to ask for Raker's help to find her mother, who walked out of the family home in Cambridge nearly 40 years ago and vanished into thin air. Now Rebekah has started to receive condolence cards from her mother – or are they from someone else entirely?
It's just the sort of mystery that Raker loves so well, and he is soon on the trail of Fiona Murphy, nee Camberwell. But one disappearance leads to another that Raker believes is linked and things begin to get very dicey indeed. One plot line has suddenly split into two, and it's the first sign that things are going to get complicated – so be prepared to settle in and concentrate as you read it.
In truth, The Last Goodbye has more threads than the Bayeux Tapestry, and although Tim Weaver lives up to his name by pulling them together into a pleasing picture, the meandering timelines and hopscotching from one narrative to the other are somewhat disconcerting and at times confusing. Stick with it though, because this is quite a ride.
While Raker travels far and wide in pursuit of Fiona, pulling in favours from some frankly reluctant sources and effectively putting himself in danger, Healy is trapped behind bars with plenty of time to ponder upon his current situation and how everything came to this pretty pass. As the walls start to close in, so does an overweening sense of danger – and when someone offers him a juicy get-out-of-jail card, he is sorely tempted to snatch it with both hands. But what if his freedom comes at too high a price?
Family ties are at the heart of much that happens in this book, with love, loyalty and trust taking vital supporting roles. That aforementioned ebb and flow in timelines can lead to you going back a few pages every now and then, just to check the who, where, when and why of what just happened but the author's clever manipulation of his reader is destined to keep you locked in to the bitter end.
Missing persons stories are a popular trope in crime fiction, as demonstrated so well by this series which has now reached book 12. Tim Weaver ploughs this particular furrow well, with a panache that reminded me of Before She Disappeared by Lisa Gardner. Both feature protagonists obsessively searching for those who are lost, with a compulsion drawn from past tragedy. This is a book with a rather ominous title and a compelling tale to tell. If you're a David Raker fan, I suggest you grab a copy at the first opportunity.
Family ties, love and loyalty are threads that also run through Exiles by Jane Harper, which also centres upon the mystery of a mother who vanished without trace.
Author Tim Weaver is also working on an original TV series with the same drama team that made Line of Duty, so there's plenty to look forward to from him… Watch this space.
Michael Joseph
Print/Kindle/iBook
£7.99
CFL Rating: 4 Stars