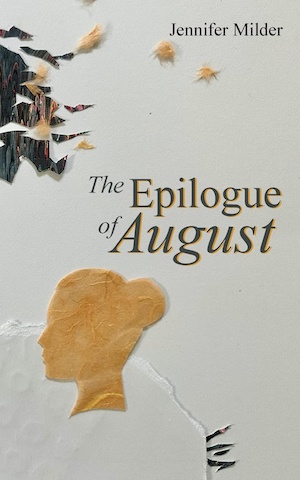 This captivating debut mystery novel by Jennifer Milder unwraps the title character's secrets like a succession of nesting boxes. It demonstrates the truth William Faulkner captured when he said, "The past is never dead. It's not even past."
Janus is a middle-aged woman living in Brooklyn when she receives a phone call that's like the other shoe finally dropping – she couldn't help waiting for it. Her mother, August, is dying in the oceanfront town of Seaville, North Carolina. Bad timing, of course. The Thanksgiving holiday looms. Janus has no desire or, initially, no intention to go to her prickly mother's bedside, but there's no one else. She goes. The competing pulls of duty and self-preservation are palpable here. In a way, it's curiosity that wins out.
The name Janus – or Jan, mostly, in the book – is a perfect choice for the main character. Looking backward and gradually revealing the layers of her mother's and her lives – eventually, even her grandmother's – and looking ahead to her mother's death is exactly what occupies Jan in this novel. If that works, then why 'August' for the mother? Was it because the emperor Augustus brought peace to the Roman world, and August (the character) has the opportunity to do that for Jan, if only she would? Or is it because August means 'the illustrious one'? Certainly, August has been one of Seaville's most notorious, albeit not illustrious, residents. I don't know, but I sense a significance.
August was born to a single mother, father unknown. Mocked and shunned by her schoolmates, she grew up independent and wilful. In high school, when she too became an unwed mother, she left Seaville and headed west to raise her daughter free of Grandma Patty's interference and the town's censure.
Jan has indelible, unhappy memories of her chaotic early years living in camps and communes. Not until Patty died did her August settle them anywhere permanently, returning to Seaville only because she inherited Patty's house. August has painful memories too, especially of the murder of a pair of sisters that took place in the town one long-ago summer. She knew the girls and worked alongside them in the local ice cream shop.
Nelson McCready, a young black man, was tried and acquitted of one of the killings and never brought to trial for the other. Because technically the case is still open, he can't leave. By default, he's sentenced to live in a community where everyone believes him guilty of shooting two pretty white teenagers.
As August's fragile health declines, Jan seeks out friends from her own past and that of her mother and grandmother. She's trying to find out why their history is so fraught and, if she can, who her father was. You may anticipate a few of her discoveries, but author Milder has significant twists in store. To Jan, the journey she's on is personal, but as her mother's story is gradually revealed, she also finds herself coming closer and closer to uncovering the secrets behind the long-ago murders.
All told, this is a complex, layered portrait of mother and daughter, and even though family dramas are not usually my cup of tea, here the characters are completely, heart-breakingly believable. Coupled with an accomplished writing style, that realism makes the story immersive and deeply engaging.
Jen gradually finds her way not only to richly imagined local people who can provide her with a piece of two of the puzzles she's confronting but also to an understanding of the way small towns work. The story packs in so much, it's hard to believe that the present-day action takes place over the course of only about a week (not counting the sojourns in August's difficult past and Jan's childhood).
The book appears to be self-published, and a commercial publisher might have suggested different formatting choices. Some readers may be put off by the book's 579 pages, but that number is misleading. The way the pages are laid out there are fewer words per page than a conventional book and, trust me, it moves along rapidly. If this is a useful comparison, the Kindle version has far fewer KB than four of the UK's current top five thrillers. This is a truly remarkable debut, and I look forward to more from this author.
For more dysfunctional families with secrets try Benjamin Stevenson's Everyone in My Family Has Killed Someone, or Eryk Pruitt's Something Bad Wrong, also inspired by a real-life murder case, as was The Epilogue of August.
JJC Independent
Kindle, Print
£9.64
CFL Rating: 5 Stars