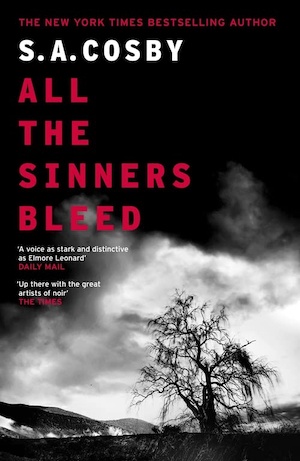 Titus Crown is the first black sheriff of Charon County, Virginia. The previous incumbent ran a corrupt, racist department that Crown swore he'd clean up when he took the job. He's determined that his officers will operate by the book, without fear or favour, and that no-one in his department can be accused of bias. His principles are put to the test at a school shooting. A teacher has been killed and the gunman responsible is shot and killed by one of Crown's deputies. It looks a righteous kill, but even so the deputy is placed on administrative leave until an internal investigation can be completed.
The incident is indicative of the pressures Crown is under. The local black community is up in arms, the discontent fomented by a firebrand preacher who has already found the department guilty of a racist killing. The deputy is incensed that his actions are being called into question, and a local councillor wants to know why Crown won't close the investigation with the shooter dead. Pleasing everyone is an impossible job; all Crown can do is be true to his principles.
Prior to becoming sheriff, Crown worked for the FBI in domestic terrorism. He's haunted by his actions in a case involving Christian nationalism, white supremacy and right-wing militias. He was fortunate to escape unpunished for what he did, and this goes some way in explaining his determination to stick to the letter of the law. Crown knows that – under provocation – he's capable of violence as bad or worse than that of the criminals he investigates.
The school shooter was a young black man called Latrell MacDonald. Crown knows his father well, and has previously arrested Latrell for possession of drug paraphernalia. The young man had been heading down the wrong path for years but no-one had expected this. He came out of the school wearing a wolf mask, and appeared to be considering giving himself up until charging the police with his gun raised.
Mr Spearman, the murdered teacher, was a liked and respected member of the community but Crown discovers the man had been hiding a dark secret for many years, and here the story twists towards the type of Southern noir SA Cosby is known for. Examination of the two men's phones reveals graphic scenes of torture and murder. Together with a third man, all wearing wolf masks, they had been abusing and killing young black children. The investigation leads to a mass grave out in the woods, and the case is now about identifying and catching the third killer, whom Crown thinks of as the last wolf.
Cosby has crafted a very dark, almost gothic thriller which, with the discovery of the phone evidence, leads us into what you might call Thomas Harris territory. The serial killer angle is especially well done and the sense of there being a wolf amongst the sheep of Charon county creates an atmosphere of dread. Cosby builds on this with frequent references to religious imagery and the quoting of scripture. As the last wolf targets Crown and those closest to him, the tension you'll feel reading this novel will build to an incredible crescendo.
All the Sinners Bleed focuses on past wrongdoings, whether that be Crown's own shameful misdemeanour, the town's bloody history or, most significantly, the legacy of a racist society that used black bodies to build the South. Alongside that, it has contemporary concerns and features a number of hot-button topics such as school shootings, police racism and white nationalism thinly disguised as an attempt to preserve the Southern heritage. Cosby achieves the right balance between themes and story, and it's no wonder his novels have proved so popular.
The psychological underpinnings of the last wolf's actions are convincingly revealed and dovetail in a satisfying way with the novel's themes. All in all, this is an impressive novel, and Cosby adds personal conflict for his protagonist with the arrival in town of an ex-lover to cover the case as a reporter, and I would have liked this to have been developed a little further.
All the Sinners Bleed is an exciting, must-read release, which has been lauded across crime fiction publishing by writers including Don Winslow, Alafair Burke, Alex Segura, Chuck Wendig, Eli Cranor and so many others too. Rarely have we seen such widespread author support for a new launch.
Also see SA Cosby's Blacktop Wasteland and his subsequent novel Razorblade Tears, which won our Best Novel Editor's Choice Award in 2021.
Headline
Print/Kindle
£9.99
CFL Rating: 4 Stars