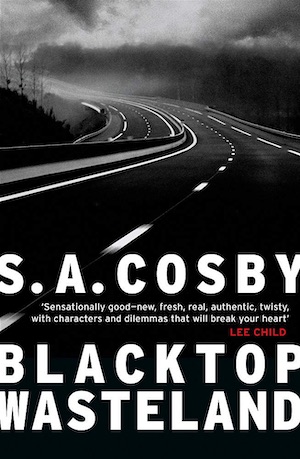 Blacktop Wasteland has generated a lot of interest over the preceding months with both veteran and new writers queuing up to sing its praises on social media. The hype, especially considering that Blacktop Wasteland is only Cosby's second novel, is quite something. The last time I can remember a noir novel generating such a buzz was Lou Berney's November Road, which went on to win the Anthony Award, the Hammett Prize and was picked up for a film adaptation.
Blacktop Wasteland begins with Beauregard 'Bug' Montage taking part in a late-night illegal drag race through the back lanes of Virginia. Bug had promised Kia and their children that he had left behind this part of his life behind, but he needs money. He wins the race but loses his stake when the race is broken up by two sheriff's deputies.
It's a great opening scene that thrusts you straight into the action and introduces its antagonist. Bug is revealed to be a skilled driver, calm under pressure but facing difficult choices. He wants security for his family and to honour his promise to his family, but cannot provide one without failing in the other. His garage is losing money to the local franchised competition, his mother has care home bills, one son needs braces and his daughter has college fees to pay. Bug has much more in his past than just illegal drag racing. He followed his father, Anthony, into a career as a getaway driver, and even though Anthony disappeared and is most likely dead, Bug has never found a replacement for the thrill he got from it.
The opening chapter also reveals the themes which run through the novel including the trap which many poor or marginalised people find themselves in caught in – an uncompromising capitalist system, the impossibility of leaving the past behind and how the sins of the father are passed to the son.
Seeing no way other way out, Bug accepts a job driving for an old acquaintance on a jewellery store robbery. Ronnie and Reggie Sessions are two small-time criminals too stupid and greedy ever to make the big time and the last time Bug worked with them, stealing a thoroughbred horse, the job went south quickly. The plan they have is full of holes, but in his desperation Bug convinces himself he can make it work. It's a bad choice and sets him off down a path which will become increasingly difficult for him to get off.
The gang get away with the diamonds, but shots are fired and the loss of lives means extra attention from the police. Bug can't trust the others to lay low until the heat dies down, but there are further complications when the store reports only the theft of the petty cash and not the main haul to the police, and the gang's inside woman disappears.
Blacktop Wasteland captured my attention from the beginning. Cosby writes action as well as anyone. Bug is a engaging protagonist – funny and likeable but clear-headed and impressively good at his work. His conflicts give him a depth that others lack. Beneath its sleek surface Cosby has written a rural noir novel that is also timely and subversive in its portrayal of racism and thew skewering of the American Dream. Believe the hype.
For more heist novels click here.
Headline
Print/Kindle/iBook
£7.99
CFL Rating: 5 Stars