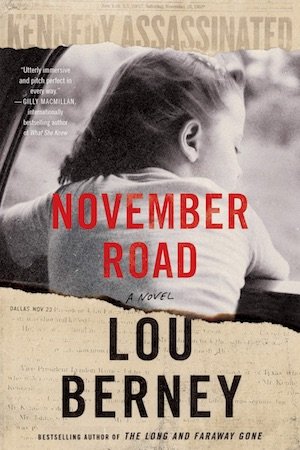 Lou Berney's 2015 novel The Long and Faraway Gone won a string of awards including the Edgar, Barry, McAvity and Anthony gongs. The author sets his latest novel in the aftermath of one of America's defining moments, the assassination of John F Kennedy, and uses the upheaval caused by this momentous event to set two lives spinning off in new directions.
Frank Guidry is an upper level fixer in the New Orleans mob. His easy charm, which hides a truly ruthless nature, has got him close to mafia boss Carlos Marcello and his right hand man, Seraphine. Guidry, the epitome of self-possession and confidence, would never normally doubt his place in the scheme of things but he begins to realise two things. Firstly, that he had an albeit unwitting role in the assassination of the president, and secondly that his boss Marcello might be tying off any loose ends. So Guidry goes on the run. He knows his business well enough to accept that when Marcello weighs his friendship against the risk of being caught, there is only one way the scales will fall.
As it happens, Guidry is right to run. He's at the top of a list of people who need to disappear which is being worked on by the fearsome hit man Paul Barone. His best shot is to get to Vegas where there's a mobster with a grudge against Marcello and the connections and clout to get him out of the country.
Kennedy's death also sends Charlotte's life spinning off its axis. Charlotte is a 28-year-old mother and housewife living a safe but stultifying existence in Woodrow, Oklahoma with her kind but drunken husband Dooley, and their daughters Rosemary and Joan. The killing sparks within her a sense of urgency, and she sees all too clearly the choice in front of her – take her children and leave right now, or stay here with Dooley and accept the fact that nothing will ever change.
Her decision made, she sets out with a vague plan of starting again in California. But stuck outside Vegas with a broken-down car, and at the mercy of the mechanics, Charlotte is faced with enormity of her decision.
For Guidry, Charlotte and her daughters represent an opportunity too good to miss. Guidry knows he will be as hunted man in mob-run Vegas, and his chances off blending in are that much better as a father on vacation with his family than as a single man. For Charlotte, he seems a charming insurance salesman, good with her daughters and kind enough to offer them a lift and a place to stay while she gets back on her feet. So together they make their way to Vegas, with only Guidry aware of what lies behind an in front of them.
There are plenty of chilling moments in this thriller – Barone's takedown of the legendary second shooter is a particular highlight – but what makes this novel special is the characters and themes. It's a deeply American crime novel; a road trip to Vegas in the aftermath of the Kennedy assassination, and an examination of both sides of the American dream. For Charlotte, resilient and creative, her future is hers to grasp. For Frank, it is a different matter.
November Road is a tale of new beginnings and of second chances. It's also a love story too. But fear not, Berney is too smart an author to present us with the story of the bad man who is saved by the love of a good woman. Instead he resolves his novel with an ending that you will find emotionally resonant, but also true to everything that has gone before. Some of the brightest stars of American crime fiction have been queuing up to hail November Road as a masterpiece. They'll get no argument from us.
For another outstanding road trip, see Dodgers, written by Bill Beverly.
William Morrow
Print/Kindle
£6.99
CFL Rating: 5 Stars