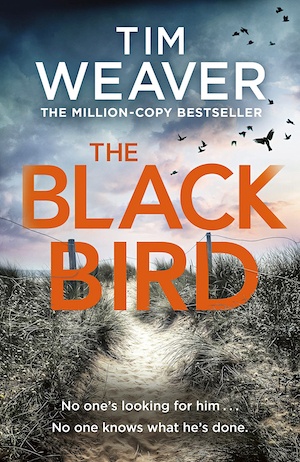 Over the years, there's been a veritable dawn chorus of crime fiction novels featuring birds in their title. Immediately springing to mind are Robert Galbraith's The Cuckoo's Calling, The Heron's Cry by Ann Cleeves and even Meadowlark by Greg Ruth and the aptly named Ethan Hawke. Let's add The Blackbird to that literary aviary, shall we?
This is number 11 in the series featuring David Raker from British author Tim Weaver, and as The Blackbird opens Raker is asked to find a young couple who vanished in most mysterious circumstances. One minute Cate and Aiden Gascoigne are captured on CCTV on Gatton Hill in Surrey, laughing and without a care in the world. Seconds later, their car has plunged down a 90-foot ravine before bursting into flames.
They're obviously dead – but when firefighters arrive at the scene the car is empty, the Gascoignes nowhere to be found. How did that happen and where are they? Taken on by Cate's grieving family, these are two questions that Raker is determined to answer, but as his investigation progresses, more and more questions are about to cloud the issue further. Could this be the case that finally defeats this master of missing persons investigations?
Cate was a talented photographer and when Raker visits the Gascoignes' home with Cate's sister, Georgia, he discovers that she was working on a new project focusing on the victims of unsolved murders. Could that have had a bearing upon her death? And what might the mysterious 'dunes', overheard by Georgia in a hurried phone conversation, have to do with it?
Fans of this series know Raker to be a dogged and intuitive investigator, who will single-mindedly burrow away at the case in hand until he begins to find answers, but this time he hits dead end after dead end. Wherever the Gascoignes went, someone out there doesn't want them found. And then there's the mystery of the two witnesses to the crash, who both gave suspiciously word perfect descriptions of what happened, and seem to have unusual changes of character afterwards. As the death toll rises, Raker flounders in the dark.
Meanwhile, over in the wilds of Wales, Raker's fugitive friend Colm Healy has problems of his own – someone is taking an interest in him, and that's a big no-no for n ex-cop who must live his life under the radar. But he's lonely and vulnerable, and could be about to make a huge mistake… As if Raker doesn't have enough on his plate!
The Blackbird is one of those precious books that grabs the attention from the off and never, ever lets go. I found myself eking out my reading time, desperately trying to make the experience last that teeny bit longer. To no avail, because Tim Weaver's rich prose, clever plotting and overwhelming sense of place hook into your synapses like a drug – meaning you just have to keep turning the pages. He turns up the tension notch by notch and Raker followers certainly won't be disappointed here.
This book is one of the best in a canon that already boasts several corkers. If you're coming to the series cold, however, it really isn't the place to start your acquaintance with Raker. Instead, go back to the very beginning, with Chasing the Dead. And enjoy – I envy you the journey you're about to embark upon! For the rest of the faithful? I guess we will all be counting down the days to book 12, because the finale of The Blackbird leaves us on quite the cliff edge. Some authors are just too sneaky –and don't we love 'em for it?
There's anther dogged missing persons investigator as protagonist in Before She Disappeared by Lisa Gardner.
Michael Joseph
Print/Kindle/iBook
£7.99
CLF Rating: 5 Stars