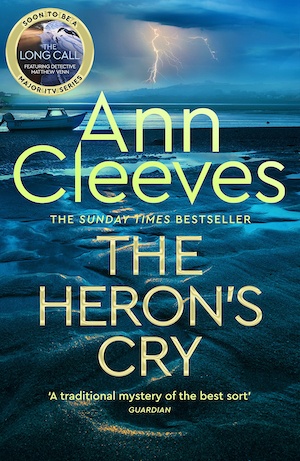 It is two years almost to the day since Ann Cleeves launched Detective Matthew Venn into the cutthroat world of crime fiction. He was new and green and had some tough acts to follow. After all, Cleeves is the creator of the hugely popular Vera and Shetland series. Would The Long Call fly… or flounder?
Happily it was the former, and the book even made it into my top 5 choices of 2019. Was I looking forward to meeting Venn again? You betcha! But as The Heron's Cry opens, it is his second in command, DS Jen Rafferty, who is in the spotlight. She's at a friend's party, drinking too much and generally enjoying herself when she's introduced to Nigel Yeo, who asks for her number and for a moment Jen thinks he's hitting on her. But it soon becomes clear he wants her professional advice and after getting Jen's details he leaves.
The next time Jen sees him, Yeo is dead. A long shard of broken glass is sticking out of his neck. His body is found at an off-the-beaten-track artists' commune, where his glassblower daughter Eve lives – and the murder weapon is from one of her broken vases. The commune is in the grounds of a big old house owned by millionaire and philanthropist Francis Ley and as Jen talks to the victim's daughter, Venn moves over to the big house, to talk to him.
Ley has ruffled feathers through his philanthropy, which some see as promoting the gentrification of North Devon, but he seems genuinely shocked by the death of a man he knew pretty well. Yeo was a former hospital doctor who had moved out of the National Health Service to head up North Devon Patients Together, a watchdog monitoring the local NHS Trusts – a kind of poacher turned gamekeeper. It soon transpires that Yeo had expanded the remit of the watchdog and had been looking at the recent suicide of a young mentally ill local man. Maybe that's why he wanted to talk to Jen.
It is turning into a complex case and Venn needs to keep his wits about him as the investigation takes strange turn after strange turn. He must also muddy the lines of protocol which he normally adheres to so rigidly – his husband Jonathan is a friend of Eve Yeo, and someone she turns to in her grief. As a second murder occurs, Eve and Jonathan become even closer, leaving Venn in something of a moral quandary.
That's one of the things that really stood out in The Long Call – Venn's propensity to play it by the book, no matter what. He's mellowing a little now, trying to loosen the straight-laced attitude, relax into his marriage and even proffering an olive branch to his mother, who has been distant since Venn lost his faith and left behind the religious ties of The Brethren. Those little tweaks and changes are a masterstroke by an author who really knows about characterisation. In Matthew Venn, Ann Cleeves has created a wholly relatable, flesh and blood protagonist.
His sidekicks also leap off the page, with DS Jen Rafferty beginning to settle into the area after her move from Liverpool. The scenes with her teenage kids are entertaining and realistic and I love her more on each meeting. DC Ross May is an ambitious copper, prone to slyness and following his own agenda while sucking up to the boss, DCI Joe Oldham, but in The Heron's Cry we begin to see another, less confident and cocksure side to him.
The settings are lovingly portrayed, while clever plotting sends the reader up some lush and leafy dead ends before everything becomes clear. The denouement is both satisfying and smart, laying the building blocks for book three. And although we may have quite a time to wait for that to arrive, the good news is that Venn and co are currently being turned into a new TV drama, with an adaptation of The Long Call in production.
Read our interview with Ann Cleeves here. North Devon also features in Private Lives by JG Harlond.
Pan Macmillan
Print/Kindle/iBook
£9.99
CFL Rating: 5 Stars