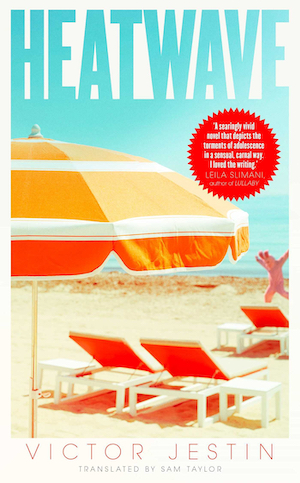 Translated by Sam Taylor — French author Victor Jestin's short yet forceful debut novel is part dark coming-of-age novel, part morality tale. Set over the span of a weekend, it tells the story of a 17-year-old who witnesses another teenager dying and chooses not to save his life even though he is able to.
Leonard, our narrator, is spending his summer holiday with his family at a camp site in Landes in Southwest France. Uncomfortable in his own skin and struggling to find his footing in the world, Leonard is clearly a fish out of water in a holiday resort where social constructs are enforced with partying, drinking and organised activities.
The final Friday of his holiday, Leonard, who by now is worn out by the sheer cheerfulness of the camp site, opts for an early night and stays in bed instead of attending another party. Due to the oppressive heat and partygoers' rowdiness, sleep evades him and he goes for a walk. While wandering on the dunes he sees Oscar, one of the cool kids, hanging from his neck, entangled by the rope of a swing. Whether by accident or a sexual experiment, Oscar is barely breathing. Instead of coming to Oscar's aid, Leonard remains frozen, watching him struggle for air and eventually die.
Leonard promptly proceeds to drag Oscar to the dunes and buries him. For reasons unknown he decides to keep Oscar's death a secret, carry on as normal and spend the remainder of his holiday as if nothing happened. His denial is made markedly easier by Luce, the girl he's infatuated with, showing a sudden interest in him. In the blink of an eye, the pervasive heat, brightness and cheerfulness of the campers become considerably more bearable for our cynical narrator.
Yet Leonard knows he made a terrible mistake and the stifling reality of his actions lies slumbering in the shallow end of his subconscious. The question is whether he will be able to get away with his actions and if he should. If you do nothing to prevent someone from dying does that make you a murderer or merely an unfortunate bystander?
Author Victor Jestin excels at creating a thoroughly claustrophobic atmosphere. He describes the hottest day the country has known in 17 years and we can feel the sweltering heat, smell the suntan lotion and hear the buzz of people converging at the camp and on the beach. The carefree and cheerful mood stands in strong contrast to the death of Oscar. The campers remain oblivious to it and, understandably, carry on with their frivolity regardless.
The campsite takes on a surreal, rather ominous quality with references to its pink bunny mascot. Leonard more than once observes the pink rabbit followed by a trail of holiday makers participating in a game, turning his observation into a fever dream or, more likely, a nightmare. It's a stark reminder of the world he's not a part of and taking his behaviour into account, might never be. In the mornings the camp site turns into a large machine, the author characterising it as a factory of fun. Everyone is a cog in the system, branded by the little blue bracelet on their wrists.
The references to the heat don't only add to the atmosphere, Jestin also uses it to reference global warming and our ignorance of the climate crisis: "Every year it got hot earlier – this year it had been in February – and we had welcomed it without fear, happy to see the end of winter; we'd sat out on café terraces with no sense of foreboding about what it might mean. We didn't sense the inferno coming. I wondered what temperature would finally be too hot."
This isn't a conventional crime novel. There's no doubt as to the crime committed or who is complicit. In fact, it's stated up front in this captivating first paragraph: "Oscar is dead because I watched him die and did nothing. He was strangled by the ropes of a swing, like one of those children you read about in the newspapers." Instead, it explores the main character's behaviour and reaction to Oscar's death. There's no resolution, no comfort here and the reader will be left to make their own conclusion.
Ultimately, Heatwave is an intriguing thriller which examines good versus evil and humanity's underlying barbarism when faced with unfamiliar situations. It also comments on societal pressure to conform and, on the other side of the spectrum, questions the artificial nature of people's behaviour, their superficiality and their ability to ignore the issues they don't want to deal with.
For more French crime fiction see Jérôme Leroy's Little Rebel or Summer of Reckoning by Marion Brunet.
Simon & Schuster
Print/Kindle/iBook
£9.22
CFL Rating: 5 Stars