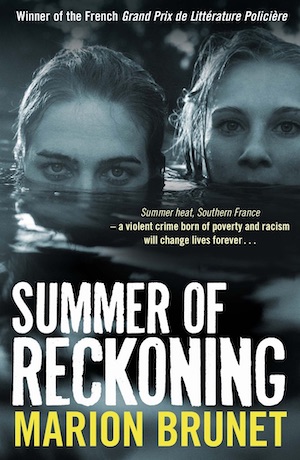 Written by Marion Brunet, translated by Katherine Gregor — Some teenage summers are just too awkward and painful to revisit. In this psychological thriller, which won the Grand Prix de Littérature Policière, French crime fiction author Marion Brunet expertly describes a summer of that exact type, except that, unlike most summers, it ends with a brutal murder.
The story is set in Luberon, a region in the South of France that has three mountain ranges running across it and villages in the valleys between. The nearest big city and the one the characters in this novel relate to is Marseille. Tourism promoters emphasise the area's picturesque villages, but that is not the kind of place where 16-year-old Céline and her 15-year-old sister, Johanna, live with their brutish father, Manuel, and unsympathetic mother, Séverine.
Brunet does a superb job of describing the tedium of living in a bleak, poverty-stricken town where not much is going on, the simmering resentments of teenagers, the way even the smallest community has its corrosive secrets, and the uneasy transitions between adolescence and adulthood and between young adulthood and worn-out middle age. It's one of those places that has violence hanging over it, and if the truth ever came out, well . . .
An opening scene has the family walking with barely concealed excitement to one of the summer's highlights – a funfair with rides and all. Céline is the more glamorous of the sisters, 'revealing her indecent beauty with outfits that were too tight, her denim shorts cut so high the fold between her buttocks and thighs opened and closed with every step she took'. Jo is uninterested in her appearance, wearing skinny jeans with dirty knees and a shapeless black tank top. Her eyes are her only distinctive feature, one green, one blue.
At the funfair, Céline flirts outrageously with the boys, while Jo watches her sister critically, 'a year older, a birdbrain with the bearing of a queen', she thinks. On a ride called the Tarantula, which plunges from a great height, Céline gets sick to her stomach and vomits when the ride stops. The parents rush to her side. 'Your daughter's not pregnant, is she?' asks a family friend. Then the fun really starts, because Céline is indeed pregnant.
Céline's father is determined that she tell him who the father of her baby is, and Céline is equally determined not to. Fortunately, Johanna doesn't know, so she can't be cajoled, bribed or beaten into revealing the secret.
Manuel isn't letting go of his anger, and settles into a nightly routine of beer-drinking, letting notions of revenge blossom in his addled head. Long-buried resentments – the too-soon pregnancy of Séverine and her precipitous unhappy marriage to Manuel, the disdain Séverine's family feels for her husband – and the destructive prejudices born of ignorance all rise to the surface. But will he act on this rage? Even Jo embarks on an erratic effort to try for a better school and better friends, which goes awry when she steals her wealthier friend's clothing.
As the summer drags on Jo's grandfather dies, and her best friend Saïd goes missing after an unexpected display of wealth. No one much worries about his until the police show up for a desultory inquiry. The ill-fated summer drags on.
Nicely written and translated, well-paced, unsentimental, Summer of Reckoning puts the four family members under a microscope, and none of them comes off unscathed. Brunet writes with economy, and though the book is relatively short at 218 pages, it creates an indelible impression of a certain kind of life, far from the idyllic picture typical of the South of France.
Marion Brunet was born in the Vaucluse, also in the South of France, and is a well-known, prize-winning author of young adult novels in her native country. This experience no doubt contributes to her effectiveness in capturing the spirit and preoccupations of teenage girls. Summer of Reckoning is her first novel written for adults and the first to be translated into English.
For another winner of the prestigious Grand Prix de Littérature Policière, try Hannelore Cayre's The Godmother. Find more French crime fiction here.
Bitter Lemon Press
Print/Kindle
£5.69
CFL Rating: 4 Stars