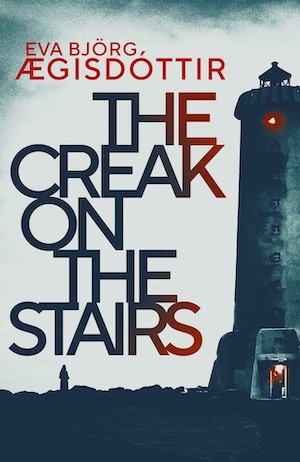 Translated by Victoria Cribb — When you've developed your taste for Scandinavian crime fiction with the Swedish and Danish authors, it's time to move on to the Norwegians and Finns. Then you're properly hooked, and it's Iceland you turn to for the premium, high-proof stuff. The landscape. The furious seas. The isolation of Europe's least densely populated country. And a gift for storytelling that allows a tincture of human warmth to illuminate an otherwise bleak backdrop. These are the things that bring Icelandic crime fiction to the fore, and with its deep literary tradition, the country has more than its fair share of top crime authors. Now meet Eva Björg Aegisdottir, the latest Icelandic crime fiction author to reach our shores, and she has produced a chilling and troubling debut.
The town of Akranes sits on a peninsula about 10km north of Reykjavik. It's not the sort of place where murder takes place and when the body of a woman is found on the shore near the lighthouse the first assumption is that she jumped. Soon, forensics come back with evidence that she had other injuries and a murder investigation begins. Who was she, and why was she in the sea?
It's a case for the Akranes Police Department, where we meet Elma, her colleague Saevar, and Hordur, the chief. Elma has freshly returned to the town where she grew up after a failed relationship. It's certainly a step back from working in the Reykjavik police – the murder in Akranes has interrupted a case involving some feral cats. Hordur doesn't like it. He knows everyone in the town and doesn't want to ruffle any feathers, but a murder inquiry means awkward questions.
Soon Elma and Saevar are unravelling the victim's unusual past. Elisabet was in her 40s and originally came from Akranes, but had moved away and turned her back on the place. She was married with two children, but was a quiet and distant person. Was she planning to leave her husband? Why did she visit one of Akranes' wealthier families just before she died? Why did they turn her away? And why has her car turned up in the garage of someone who has just returned from holiday? Even more troubling is an old photo of a pre-teen girl, semi-naked, found in the vehicle.
As Elma asks questions and follows up leads, the police procedural aspects of the novel come to the fore. She's thoroughly professional, but knows she has to sidestep a boss who's grown too comfortable with small town policing. At the same time, she is coping with the loneliness of becoming newly single after her serious relationship ended. It's hard to sleep, and hard to think about anything else. Other than the case, that is, the facts of which trouble her mind even more.
Elisabet, the victim, did not have a good upbringing in Akranes. Her father and little brother died when she was young and her mother turned to the bottle. Late night parties. Men coming and going at all hours. A depressed and neglectful mother. They turned the girl in on herself and she grew up with some dark secrets. No wonder she hated the place. What Elma suspects grinds on her just as it will grind on you, each new revelation bringing a pang of sympathy and a furrowed brow. However, Eva Björg keeps you guessing, always just in the shadows of what really happened back during Elisabet's childhood, and a week or two ago when she was killed.
This book is a slow burner. There's a real sense that you're in a small community where everybody knows a little bit about each other's business. People keep checking whether they remember Elma or not, and whether they know her parents, when she interviews them. Yet as tight knit as Akranes seems, you feel that it's a place where people will look away when something unpleasant happens, rather than intervene. There's never much sense of imminent danger, just a gathering unease, and eventually something snaps.
Tonally, The Creak on the Stairs is reminiscent of Jorn Lier Horst's Norwegian procedurals. Much of the narrative is restrained and minimal, practical, honest, matter of fact, pretty grey, even. This means that the key emotional aspects of the story, and its moments of action, seem to stand out even more. It's a book that makes an impact, but gives itself time to sink in.
The Creak on the Stairs is out now for Kindle. Print copies come out in May in the UK and in November in the US.
Orenda Books
Print/Kindle/iBook
£4.07
CFL Rating: 4 Stars