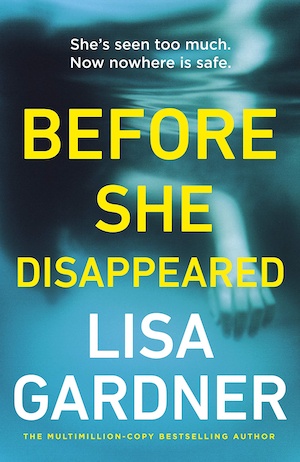 It is over a decade since Lisa Gardner last tempted her fans with a standalone crime novel. They say good things come to those who wait, so does Before She Disappeared meet expectations? I'm pleased to report that the answer is a resounding 'yes'!
Frankie Elkin is a middle aged white woman, an alcoholic and a loner who is also addicted to something else – finding missing people whose stories have slipped from the headlines… or perhaps never made headlines in the first place. She's a rank amateur with a flair for unearthing clues unseen by others and a seemingly spectacular success rate – 14 victims found so far. All of them were dead though, so perhaps not something to crow about.
Frankie isn't doing this for acclaim or reward, so exactly why is she devoting all of her spare time to seeking out vanished strangers? Don't expect answers from the outset, because Frankie's back story is intriguing and unutterably sad, and it threads through this tale like a pulled stitch in a piece of knitting, carrying with it a faint sensation of unravelling.
As the book begins, Frankie has just solved a case and is on her way to the next. Her destination is Boston, and the Mattapan neighbourhood in particular. It is home to a mainly immigrant population and Frankie stands out like a sore thumb, but she is a determined woman. This time her sights are firmly set on finding teenager Angelique Badeau, a Haitian immigrant who vanished from her high school in the middle of the day, 11 months ago. Angelique, known as Angel, was a good student who wanted to become a doctor, a teenager who was unknown to the police, who kept her head down and cared about her grandmother and her younger brother. How could she disappear without a trace?
Frankie busies herself with the essentials first, getting a job and somewhere to stay – and strikes double bubble with a bar job at Stoney's and a tiny flat about the premises, complete with a room-mate in the shape of a psychotic cat called Piper. Frankie is in the minority and her presence behind the bar is treated with suspicion by the regulars by night, but by day she braves the streets of Mattapan, checking out Angel's last known whereabouts and trying to win the trust of the lost girl's grandma and her brother, Emmanuel.
No luck, until she has her first breakthrough, finding evidence overlooked by the original police inquiry. Suddenly Frankie is being taken seriously by the local detective, albeit grudgingly, and the pair forge an uneasy truce. The relationship between Frankie and Detective Dan Lotham is a highlight of this book and the scenes when they are together are brilliantly put together.
The 'stranger in a strange town' trope is well known to crime fiction lovers and probably best utilised in Lee Child's Jack Reacher series. But Frankie Elkin could give the big man a run for his money. She's razor sharp, intuitive, haunted, broken and above all a survivor – in short, a fantastic central character. Lisa Gardner scores again by placing Frankie in such an interesting location. Mattapan might be part of a huge, sprawling city but there's a sense of insularity that permeates every page. There's also a darkness about the place and the author skilfully creates a palpable feeling of danger that has the reader checking out dark corners of the room as the pages turn.
Before She Disappeared is an immersive experience, a mystery with a host of realistic characters and situations designed to hold the attention and never let go. It's also a book that leaves a massive hangover – and I'd say that's a bonus. Grab a copy right away.
Crime in a more refined Boston setting can be found in Peter Swanson's Rules for Perfect Murders. A missing teenager is also at the centre of Bleak Harbor by Brian Gruley, another gripping standalone.
Century
Print/Kindle/iBook
£7.99
CFL Rating: 5 Stars