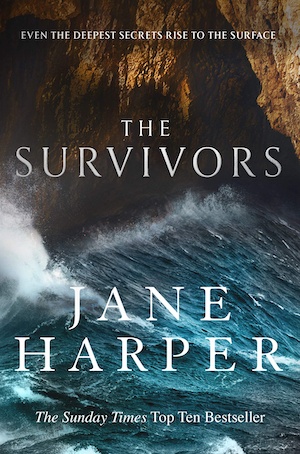 Jane Harper's latest crime mystery, now out in hardcover, revisits the perils of small-town life so expertly deconstructed in The Dry and The Lost Man. The setting this time is coastal Tasmania and a village called Evelyn Bay. The Survivors is the title of a trio of life-size iron statues erected at the end of the rocks leading to the sea, commemorating the passengers and crew of a century-old shipwreck. It's soon clear the title also is a metaphor for the people shattered by a freakish storm 12 years ago that took three lives.
Kieran Elliott, the book's central character, has reluctantly returned to Evelyn Bay to help his mother pack up the family home. Kieran's father has Alzheimer's disease and his care has become more than she can handle. He'll go into a care home in Tasmania's capital, Hobart, and Kieran's mother, Verity, will take an apartment nearby. I wondered at the naming of this character. Are we to suppose that Verity is a reliable truth-teller?
Kieran's older brother Finn was one of the storm's victims and Toby, older brother of his friend Sean, was another. Kieran blames himself for the tragedy and many locals do too, which is another reason his return to Evelyn Bay is awash in mixed feelings. He's borne an agonisingly heavy burden since the tragedy and every bit of shoreline, every business, every sound and smell in the family home bring it all back. Even The Survivors are linked in his mind to that fateful day.
The storm was much worse than anyone expected, and 18-year-old Kieran was not as cautious as he should have been. He was down in the shoreline caves, romancing the beautiful Olivia, ignoring the incoming tide that would fill the caves, drowning anyone inside. When he and Olivia finally realised they needed to leave, their exit was almost totally cut off and he put out a call for help. Finn and Toby headed out from the marina to rescue him but their boat overturned and they were lost. Kieran and Olivia swam and climbed, barely reaching safety. Olivia's younger sister Gabby was seen on the shore rocks too, but her body was never found. Only her backpack washed up on the beach.
In a small town, so much loss is hard to get past. And hard to forgive.
Olivia now lives on the beach in Fisherman's Cottage with her tiresome summer roommate Bronte, and is dating Kieran's long-time friend Ash. When Kieran arrives in the village with his partner, Mia, and their three-month-old daughter, this tight circle of friends welcomes them in. But Kieran picks up persistent hostility from Toby's son, among others. It appears his homecoming is destined to be an uneasy one.
Kieran and Mia are busy with the baby and helping his mother pack and socialising with their friends, until the morning when Bronte's body is found on the beach, near where Gabby's backpack was washed ashore years ago. Unavoidably, this brings to everyone's mind the unsolved mystery of Gabby's death.
The police investigation seems stalled and a detective from Hobart comes to help. She's not the only outsider poking around. A journalist-turned-novelist has taken up residence in town, and neither of these two strangers is averse to asking questions that might crack open the shell of communal understanding formed over Finn, Toby and Gabby's deaths.
Author Harper has nicely paced this novel, with each bit that is removed or clarified providing new insights into the town's tragedies. I especially like how she develops such strong characters and realistic dialog. You understand them, yet they still have the capacity to surprise. They seem to be involved in real relationships, stretched a bit taut at times, but the times are demanding. Against the backdrop of history and Kieran's father's debilitation, the death of Bronte is a hard blow.
Harper has received much praise for the quality of her writing, and this novel does not disappoint. It seems a good many compelling stories are bottled up inside this author, and I'm grateful she shares them with us.
Here's our rundown of 13 Australian crime writers to try.
Little, Brown
Print/Kindle/iTunes
£8.99
CFL Rating: 5 Stars