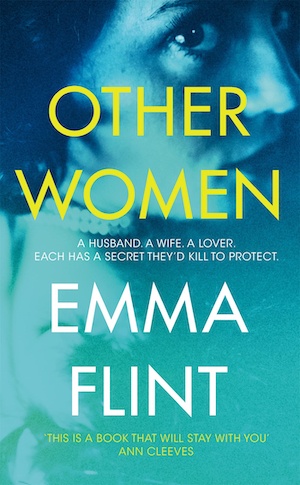 Little Deaths, Emma Flint's much praised debut novel, was set in New York and inspired by a crime which happened back in the 1960s. She isn't straying far from that path with Other Women, which is set in the 1920s and based on a murder which inspired plenty of lurid headlines in Britain and around the world.
Just a few years after the end of World War I, Britain is still coming to terms with the high price of victory. The country is mourning its dead, and thousands upon thousands of women are living without husbands, sweethearts, fathers, brothers and sons. Single and unattached, at 37 Bea Cade isn't one of them and she cuts a solitary figure as she attempts to conjure up a new life in London.
She works diligently at Morley's, counting herself lucky to have a job when so many women are being laid off to let their male counterparts return to work. Each day Bea keeps her head down and types letters; each evening she returns to her small room in a Bloomsbury Ladies' Club. An independent, if rather dull, existence, then.
All that changes with the arrival at the office one day of Tom Ryan. He is a traveling salesman for Morley's, taken on at the suggestion of his wife, who works in another branch of the company, and he is both handsome and personable. Bea begins to look forward to Ryan's occasional appointments with Mr Morley. Gradually, the pair become friends… and then something more than friends.
As this ill-fated romance burgeons, its progress is interwoven with the story of Kate, mother to Judith and wife of the man now standing in the dock accused of the murder of a woman in Sussex. She is Mrs Ryan, and her chance discovery of an insignificant slip of paper has led to her husband's downturn in fortunes. Gradually Kate's story unfolds too, and it is just as heartbreaking as Bea's. Both women, it seems, have been played by the charming charlatan known as Tom Ryan.
Meticulously and movingly, Emma Flint constructs a world in which women are generally dismissed as second class citizens, where a man having an affair is admired, while his female companion is condemned as a loose woman with no morals. This is portrayed most vividly in the courtroom scenes and in the contemporaneous newspaper articles which offer skewed takes on what occurs, day by day, in the Assizes at Lewes in East Sussex. To read at the back of the book that the testimonies and press coverage are all based upon a real-life case makes the obvious bias all the more depressing.
Other Women is an immersive read and a book I could hardly bear to put down. This is an author with a talent for characterisation and scene setting, and her ear for authentic dialogue is sharp and true. This is historical crime fiction, but its message still rings loud and clear 100 years on, within the tandem narratives of two women wronged by a master manipulator. Dowdy, easily dismissed spinster Bea and dutiful wife and mother Kate are given equal billing here and neither of them should be taken for granted. They are women with surprising depths – in stark contrast to the conniving but shallow Tom Ryan.
Fans of historical crime fiction will love this book, with Emma Flint bringing the past to life in fine style. But Other Women should appeal any fan of tightly plotted and well conceived crime writing. It has the ability to pull the reader in right from the start, and keeps up that momentum right to the very end. Like Two Storm Wood by Philip Gray, one of my top five books of 2022, it beautifully, chillingly, portrays life in the aftermath of World War I – and like Two Storm Wood, I'm thinking about it still.
For more historical crime fiction, take a look at Barry Forshaw's guide to the best of the genre.
Picador
Print/Kindle/iBook
£7.99
CFL Rating: 5 Stars