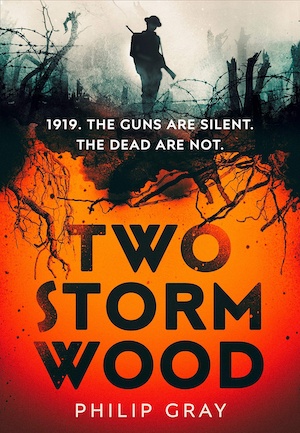 It's 1919. The guns of the Great War are silent and everything is getting back to normal after four years of absolute hell. Or is it? Well no, not really. In the battlefields of northern France volunteers are working their way through the brutalised and still hazardous landscape, searching for the remains of the fallen.
Back home in Blighty, countless families are coming to terms with the fact that their sons, husbands, brothers, boyfriends will never be coming home again. Amy Vanneck is one of that number. Her fiancé, Edward Haslam was posted as missing, presumed dead in August 1918. She is heartbroken – but she is also determined to go to France and find him.
Before Amy met Edward, a shy schoolteacher and musician, she lived a dull and quiet life. The daughter of Lady Constance Vanneck, she was expected to act with modesty and decorum at all times, to defer to her mother's wishes and to marry well. Instead, she met Edward in secret, and that act of rebellion is a drop in the ocean sending ripples destined to change both of their lives forever.
Edward is against war and prepared to face his punishment as a conscientious objector. Instead, because of his love for Amy, he joins up. His decision on her behalf haunts her – and prompts her to leave her claustrophobic family life behind and head for France. What she finds there is both troubling and deeply shocking.
Meanwhile, in the scarred and broken fields and villages of northern France, Captain Mackenzie has the task of identifying those left behind on the battlefield. Some have had a rudimentary burial, while others lie rotting where they fell. It is a job undertaken by volunteers, and many last only a few months before the strain becomes too much for them. But Mackenzie plods on. He is still alive while so many former comrades are not – and he refuses to desert them.
But not all deaths are cut and dried, and over at Two Storm Wood a worrying discovery is made. Thirteen bodies, many of them butchered, all showing signs of torture, are uncovered in a dugout that was once behind enemy lines. They were members of a Chinese labour gang. Were they the victims of German revenge? Or perhaps other Chinese labourers did the deed? Mackenzie is not sure, and the arrival of Amy Vanneck adds to his confusion. One of the dead is not Chinese – could they be looking at the body of Edward Haslam?
The arrival of Provost Marshall Westbrook, formerly of Scotland Yard and sent by Whitehall on a secretive mission, sets the cat among the pigeons too. He seems keen to solve the mystery of the dead men, and enlists Amy's help in his investigation. Meanwhile, there's a shadowy horseman lurking on the battlefields. Is it the ghost of a legendary soldier who is still exalted by the men who served under him? On something more sinister?
Two Storm Wood is an enthralling piece of historical crime fiction, a dark and desolate read, set in the middle of a hellish landscape, which confounds and captures the reader at every turn of the page. The timeline flits from before the War, to the midst of the conflict, then to the aftermath and back again, creating an unsettling atmosphere that is in keeping with the subject matter. I found myself caring for every single character, whether they were playing a bit part or at the very centre of all the intrigue, although Amy, the little mouse who reveals her inner lioness, is the star.
This is one of those books that you're tempted to move through at speed, but instead pull on the reading brakes to relish the prose and make the experience last just that little bit longer. With its impeccable sense of history and cleverly woven plot, Two Storm Wood is a book that's destined to stay with me for a very long time. I suggest you grab a copy and find out why.
Take your pick of some great World War I crime fiction in our handy round up.
Harvill Secker
Print/Kindle/iBook
£9.99
CFL Rating: 5 Stars