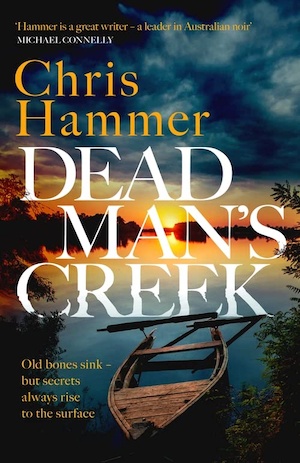 There's many an Aussie author who has travailed the dusty trails, inhospitable terrain and forgotten towns of the Outback in recent years – Garry Disher, Jane Harper and Chris Hammer, for example. The latter returns to the country's rural landscape for Dead Man's Creek, the follow up to Opal Country and Hammer's second book to feature New South Wales police detective Nell Buchanan.
As the story begins, two people are purposefully following the trails of a forest divided by the Murray River. One is female, and she is heading for a regulator that is controlling the river's flow, feeding dams, weirs and locks that provide water for far-flung towns and cities. Meanwhile, the forest is dying, and what she is planning aims to change all that.
Elsewhere, a man is hiding from unnamed pursuers who have guns and dogs. If he can get to the water he may be able to put them off the scent. The woman completes her mission and departs – but what is the man's fate?
Three months later and Nell Buchanan is driving the seven hours from Dubbo to Tulong, probably longer if stops are included. It's a journey from the centre of New South Wales to the state's southern border, passing through towns which have names that could only be found in Australia – West Wyalong, Grong Grong, Narrandera and Jelidere; so evocative you can almost hear the faint sounds of a didgeridoo. Nell is a new homicide detective, and sitting in the passenger seat is seasoned Detective Sergeant Ivan Lucic – a pairing we first encountered in Opal Country, where Lucic took the lead.
They're about to become a rural flying squad, handling homicides only and based in Dubbo but travelling across the state as and when required. And they're needed now, near Tulong, at a regulator which was recently the target of an explosion, possibly set by environmentalists. The team working on reconstructing it have found a skeleton. The skull has a clear bullet hole, which makes it murder but the crime could have occurred any time since 1938. Not quite the start Nell and Ivan were looking for, then – they're homicide detectives, not archeologists, after all.
But a search of the missing persons list piques Nell's interest. She is a local girl after all, and soon she is on her way to identifying the dead man – with the help of her father. Tulong is just a short drive from where she grew up and Grainger Buchanan was the area's dentist until he retired. Dental records solve one mystery but lead to another – who killed Major Gerald Stannard, and why?
It's just one of a positive tangle of loose ends scattered through this book, making things a little confusing as we move from one story arc to another, switching timelines and narrative voices in the process. The early pages of Dead Man's Creek feature a map of the area involved and also a well-populated family tree, which comes in handy for keeping track of the small crowd of characters featured here. The confusion not helped by the fact that the Buchanan family includes Gene, Grainger, Greg and Gail!
Love, loss, deceit, loyalty and family ties all have their part to play, as does the tight-knit community of Boonlea, where the Buchanans live. That air of small town small mindedness adds a sneaking sense of claustrophobia that seems almost alien in a country with so much space, and Hammer tempers it with some lovingly drawn scenes of the forest and environs to create an authentic sense of place. I really like Nell and Ivan, but with Nell's family closing in on all sides, there was little room for their partnership to grow and they spend much of this book apart as Nell takes the lead and Ivan watches from the sidelines, only occasionally chipping. It would be great if they were brought back together on equal footing in any future books in this series.
Find more Aussie authors to explore in our pick of crime writers from Down Under.
Wildfire
Print/Kindle/iBook
£9.99
CFL Rating: 4 Stars